Looking for a place to stay during your weekend trip to Greensboro, North Carolina? We invite you to stay with us at the O.Henry Hotel or our nearby sister, Proximity Hotel, for romantic getaways, events or work. We're centrally located in the Friendly Center area with so many things to do nearby. We also have the local's favorite restaurants and bars in town, plus plenty of amenities including complimentary airport shuttle.
Cool! Hot summer Weekends
save 10% + $20 Restaurant voucher
Check out … by checking in! We are offering a special weekend rate of 10% off the Best Rate plus a $20 restaurant voucher when you book a summer weekend getaway at O.Henry or Proximity Hotel! Available Friday- Sunday nights through September 1, 2019, including Labor Day and the week of July 4. Blackout dates apply.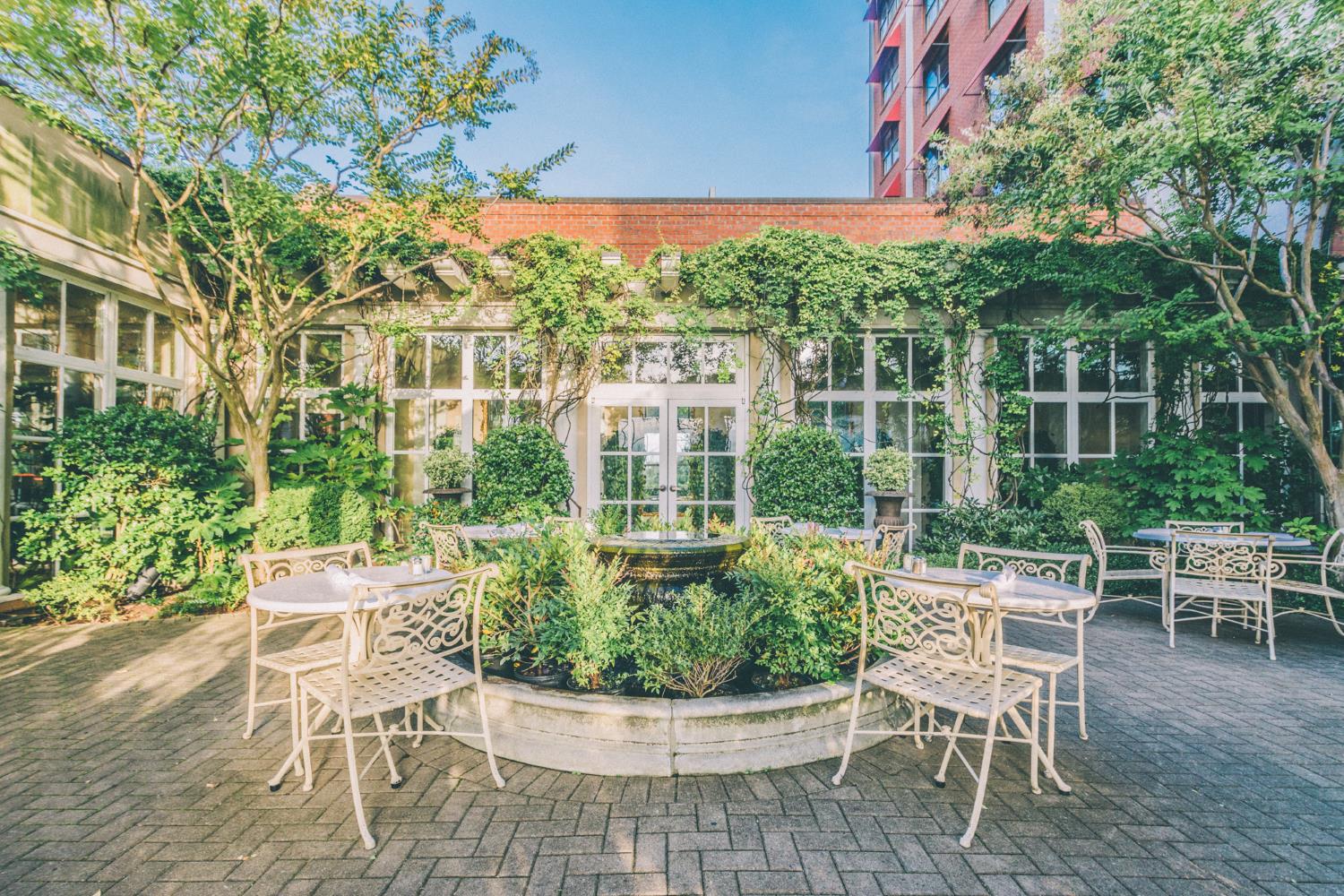 Check in to an inviting guestroom at O.Henry Hotel, where you'll experience custom-designed, finely crafted furnishings and AAA Four Diamond amenities. Enjoy dinner at Green Valley Grill and craft cocktails at our lively bar! The next morning, wake up to a complimentary hot Southern-style breakfast buffet, then spend a lazy afternoon in our luxurious Social Lobby while being served afternoon tea by our attentive staff!
Stay in sustainable style at our employee-owned, LEED Platinum Proximity Hotel! Unwind in a modern, loft-like guestroom with warm surroundings including custom, locally fabricated furnishings, original art by our artist-in-residence and AAA Four Diamond luxury hotel amenities that include complimentary airport transportation! The next morning, enjoy a leisurely brunch at Print Works Bistro.
Dine at Greensboro's top-rated restaurants Green Valley Grill and Print Works Bistro, adjacent to the O.Henry Hotel and Proximity Hotel.
Experience a world-class live Jazz scene on Thursday nights and most Saturdays in O.Henry's social lobby. See our artist schedule! 
Dance the night away at Print Works Bistro's first Friday Pop-Up Dance Club.
Sip on afternoon tea in O.Henry's social lobby and visit Replacements LTD —the world's largest world's largest retailer of china, crystal, flatware and collectibles.
Shop 'til you drop at the 125+ stores at the Friendly Center across the street.
Ride on one of on one of our complimentary bikes through the 115 miles of nearby local trails and greenways.
Walk through history at the Guilford Courthouse National Military Park where the largest battle of the Revolutionary War's Southern Campaign was fought.
Explore Greensboro's museums and galleries including the International Civil Rights Museum and Weatherspoon Art Museum.
Attend a concert or sporting event at Greensboro Coliseum and Aquatic Center (just three miles away).
Tour nearby colleges and universities including UNCG, Wake Forest, Elon and NC A&T! Learn more! 
Our Greensboro Restaurants
Green Valley Grill
Visit Green Valley Grill, adjacent to the O.Henry Hotel, and enjoy informally elegant fine dining and seasonal food using old-world European culinary sensibilities and Mediterranean flavors. GVG's wine list receives the Wine Spectator Award of Excellence each year and features 75 wines by the glass.The freshest food prepared by a passionate team, and served by friendly and competent people, is our recipe for a great dining experience.
Print Works Bistro
Print Works Bistro, adjacent to Proximity Hotel, uses fresh local ingredients to create extraordinary flavors and creative comfort foods. Enjoy traditional and modern versions of classic dishes popular in European-French bistros for breakfast, brunch, lunch and dinner. The vibrant dining room has walls of windows overlooking the gardens, with outdoor dining on a lovely creekside terrace.
Top 10 Summer Menu Features
Summer Fruit Crostata, rustic tart filled with fresh seasonal fruit, served with GVG buttermilk ice cream and strawberry coulis (Green Valley Grill)
Heirloom Tomato Tart on puff pastry; whipped cream cheese, balsamic glaze, basil oil, zucchini chips (Print Works Bistro)
Pan Seared Smoked Paprika Dusted Scallops, creamy corn, bacon, chives, wilted greens, blistered cherry tomatoes (Green Valley Grill)
Local Tomato Plate marinated olives, basil oil, tetilla cheese
Rustic French Toast, brûléed banana, Nutella®, whipped cream (Green Valley Grill Brunch)
Citrus Cured Duck Breast with black pepper-lemon gastrique, coconut-jasmine grain blend, ratatouille (Print Works Bistro)
Peach Crumble Pie with streusel topping, salted caramel and GVG vanilla ice cream (Green Valley Grill)
Pan Seared Sea Scallops with truffled corn soubise, bacon lardons, shaved leeks, citrus red onions, coconut-jasmine grain blend (Print Works Bistro)
Grilled Heirloom Tomato and Aged Cheddar Sandwich, challah, hand-cut fries (Green Valley Grill)
Heirloom Tomato & Basil Omelet with aged Tickler cheddar, bistro potatoes (Print Works Bistro Brunch)
Sign Up for Special Offers
Sign up below so we can keep you up to date on special rates and packages for upcoming concerts and other special events.  Also, if you would like to receive our Neighborhood Letter in the mail, please provide your mailing address.