Hotels near High POint University, Elon UNIVERSITY,
and many more!
O.Henry Hotel in Greensboro, NC is centrally located near Elon University, High Point University, NC A&T, Guilford College and many more colleges and universities in North Carolina! Stay with us in AAA Four Diamond luxury while touring prospective colleges and/or visiting your child for parent's weekend, homecoming or graduation. We are adjacent to the Friendly Center with so many things to do nearby and our sister, Proximity Hotel, is just one block away. We also have the local's favorite restaurants and bars in town, plus plenty of amenities including a afternoon tea, custom furnishings and complimentary airport shuttle.
O.Henry is a great place to call "home" while you explore the endless educational opportunities in Central North Carolina. Not only does the Greensboro area offer some pretty amazing public and private colleges and universities, we're less than two hours away from Wake Forest University, UNC-Chapel Hill, Duke University, NC State University, Meredith College, Winston Salem State University, and many others.
Distance From O.Henry To:
UNCG:
1.9 Miles | About 5 Minutes
Guildford College:
4.1 Miles | About 9 Minutes
NC A&T:
4.5 Miles | About 11 Minutes
High Point University:
13.9 Miles | About 27 Minutes
Elon University:
22 Miles | About 30 Minutes
Wake Forest University:
23.9 Miles | About 36 Minutes
Other Distances
High POint University to Elon UNIVERSITY:
33.4 miles | About 38 minutes
High POint University to wake forest:
24.1 Miles | About 29 minutes
Wake Forest To Duke University:
83.4 miles | About 1 hour 18 minutes
What To Except When Visiting Greensboro
Getting to Greensboro
Greensboro does not have the level of traffic congestion you see in most cities and you can get to almost any destination without hassle no matter the time of day. When you visit colleges closer to Raleigh and Chapel Hill, we recommend giving an extra 20-30 minutes before any extra appointments because the traffic can get congested closer you get the cities.
If you are a bit further away and would like to fly into Greensboro, PTI Airport is the easiest and quickest way to get in and out of Greensboro. The airport is located just 12 minutes from O.Henry Hotel.
When To Visit:
Spring and fall are the most pleasant times to visit Greensboro. You'll also find the campuses filled with students so you'll get a good picture of what a normal day would look like.  However, we recommend avoiding visiting in April and October during High Point Furniture Market. Greensboro can become crowded and hotels/restaurants are full during that week.
Summer is a quieter time on campuses and in Greensboro so you'll be able to explore and have a more intimate experience. If your not from the South, summers are hot. So be prepared to bring cool clothing and sunscreen!
Things to Do In Greensboro
Go two blocks to 125+ shops at Friendly Center.
Shop and tour the world's largest retailer of china, crystal, flatware and collectibles at Replacements, Ltd.
Take a walk through history at the Guilford Courthouse National Military Park or discover the sit-in movement of 1960 at the International Civil Rights Museum.
Our complimentary bikes are great for exploring the 112 miles of trails and greenways Greensboro has to offer!
Restaurants near greensboro Colleges and universities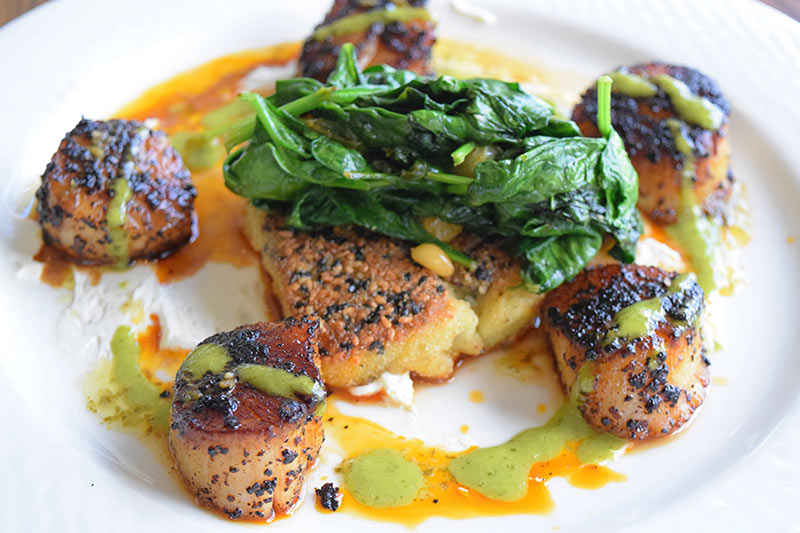 Green Valley Grill
Visit Green Valley Grill, adjacent to the O.Henry Hotel, and enjoy informally elegant fine dining and seasonal food using old-world European culinary sensibilities and Mediterranean flavors. GVG's wine list receives the Wine Spectator Award of Excellence each year and features 75 wines by the glass.The freshest food prepared by a passionate team, and served by friendly and competent people, is our recipe for a great dining experience.
Print Works Bistro
Print Works Bistro, adjacent to Proximity Hotel, uses fresh local ingredients to create extraordinary flavors and creative comfort foods. Enjoy traditional and modern versions of classic dishes popular in European-French bistros for breakfast, lunch and dinner. The vibrant dining room has walls of windows overlooking the gardens, with outdoor dining on a lovely creekside terrace.
Sign Up for Special Offers
Sign up below so we can keep you up to date on special rates and packages for upcoming concerts and other special events.  Also, if you would like to receive our Neighborhood Letter in the mail, please provide your mailing address.