Plan the perfect business trip to greensboro
Business travel to Greensboro, North Carolina couldn't be any easier! Whether you are a seasoned road warrior or this is your first voyage, we've put together some helpful pointers when traveling to Greensboro for business.
Getting to Greensboro: Transportation
By Air
Flying into PTI Airport is the easiest and quickest way to get in and out of Greensboro. The security lines at PTI are shorter and move quicker than other airports in the area and O.Henry Hotel is only about 12 minutes away!
If you'd like to rent a car when you land, PTI has the following rental car agencies to choose from: Alamo, Avis, Budget, Dollar, Enterprise, Hertz, National and Thrifty.
BY Car
If you are driving into Greensboro, we offer complimentary parking in a private lot. Greensboro does not have the level of traffic congestion you see in most cities and you can get to almost any destination without hassle no matter the time of day. Get directions!
Forget Something at Home?
At O.Henry Hotel, your guestroom is fully stocked with AVEDA bath products, makeup mirror, hairdryer. cozy robes and rubber duck to make your stay feel like home. We recommend bringing your own, but we also have extra toothpaste, toothbrushes, mouthwash, combs, hairspray, deodorant, razors and shaving cream available if you are in a pinch. We are also located within 8 minute walk to the Friendly Shopping Center. If you need to pick up something up from Harris Teeter, pick up a book at Barnes and Noble or new attire at Macy's and the other 100+ stores, it's just a hop, skip and a jump away.
Insider's Tip: Don't want to be burdened while traveling? Ship what you need to the hotel! So it'll be waiting for you when you arrive! 
Safety & Accessibility 
There's nothing more important than safety. At O.Henry Hotel, we have 24/7 staff to assist you with any request or concern. Our guestrooms have in-room safes to store any personal items. We also have accessible rooms, entrances and social spaces. Learn more about our amenities and accessible rooms.
Our rooms are expertly cleaned and are sanitary. We eliminated the biggest sanitation concerns that most people have with hotels. We don't have the suspect shower curtain or bed spread. Instead, our glass-enclosed shower and separate tub offer superior sanitation. Learn more.
Guestrooms
You are in for a great night's sleep. Our magi bedding starts with a supremely comfortable mattress. Then we added four plush, down-like sleeping pillows, wrapped it all up with sumptuous, Egyptian combed-cotton, Italian-woven sheets and pillowcases and topped it off with a hypoallergenic, fiberfill blanket and a chocolate brown-colored damask coverlet. Breathe a breath of fresh air all night long with our extraordinary air quality — we put over 40 cubic feet per minute of triple filtered outside air into each guestroom 24/7/365. The double walls between guestrooms creates the noise-cancelling "do not disturb" environment so you can wake rested and ready for the next day.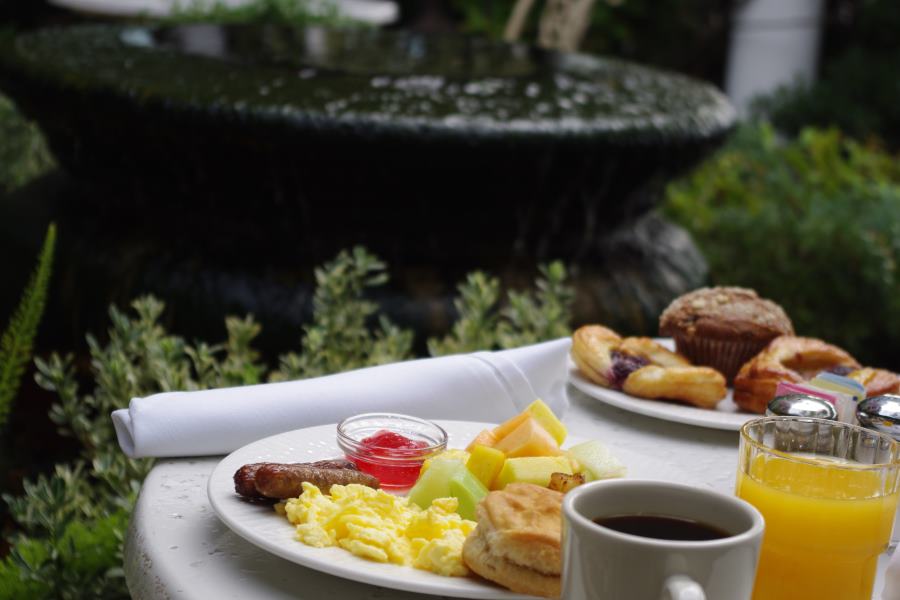 BREAKFAST
We want to make sure you won't get those awkward mid-morning grumbles in your important meeting. Green Valley Grill's hot breakfast has delicious eggs, plenty of protein, fresh fruit, yogurt, muffins, grits, oatmeal, and gluten-free options that change daily to ensure you'll start the day energized and focused.
LUNCH
Greensboro has so many wonderful diverse restaurants to choose from! No matter where you are located you'll be able to find a great restaurant close by. If you're looking for a unique experience, delight in Afternoon Tea in our social lobby!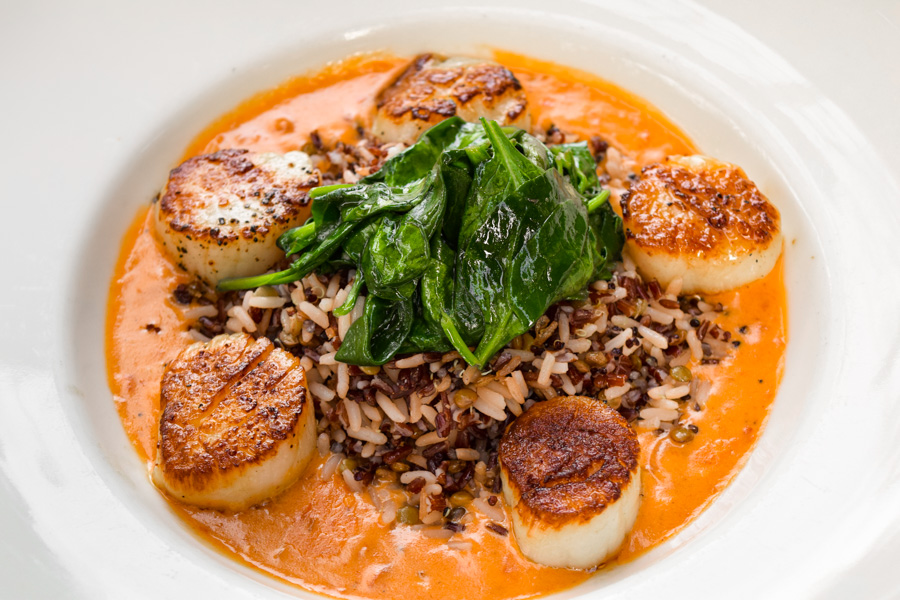 DINNER
Located adjacent to O.Henry Hotel, Discover Green Valley Grill's informally elegant, zestful dining and fresh seasonal food featuring Old World European culinary sensibilities and flavors. Their friendly and welcoming bar features artisanal cocktails, craft beers and 500 wines. GVG's wine list receives the Wine Spectator "Best of Award of Excellence" each year and features over 75 wines by the glass. GVG's full menu is also available for in-room dining! See the menu!
Creative Workspaces
Taking advantage of a spare moment to check your email and catch up on some work is the best way to fight the pile up when you return. Finding the perfect spot to nestle down and get to work can be another issue. Our social lobby or cloister garden are great places to set up shop if you thrive in a community environment but still want to be at a safe distance. The lower level lobby and business workstations on each floor are a great place for a change of scenery, but with a little less traffic. You can spread out and focus without any distractions in your room with the large custom designed desk. O.Henry Hotel also has flexible meeting space if there is a need for a private conference or meeting. Insider's Tip: Change up the regular business lunch for a meeting during afternoon tea in our social lobby!
Wellness
We hope you packed your workout gear, because it's no sweat to keep to your regular routine when traveling for business.
24/7 FITNESS STUDIO
O.Henry Hotel has a recently updated and expanded fitness center with new equipment. It is accessible every day with your key card.
COMPLIMENTARY LOANER BIKES & WALKING TRAILS
Loaner bikes and helmets are available to rent by calling the front office. Just out the door from the hotel is 72+ miles of greenway plus hiking and walking trails.
STREAM YOUR ROUTINE
Work out in your guestroom by streaming your favorite YouTube fitness instructor to the guestroom TV using a simple app! There's plenty of room to do those lunges so there's no excuse to skimp.
Quaintance-Weaver Loyalty Program
Vising Greensboro often? The Quaintance-Weaver Loyalty Program (QWLP) at O.Henry Hotel is designed to allow individuals or companies that stay 40 or more room nights a year at one, or both, hotels to get preferential rates and services. This program includes many special be­nefits, including:
Guaranteed discounted rate
A helpful program "Set-up package"
Exclusive web booking code for O.Henry Hotel and Proximity Hotel websites
Reservation concierge service available Monday-Friday: 8:00am-6:00pm
Seasonal specials and QWLP exclusive offerings
Priority waitlist status on sold-out nights
Complimentary premium high-speed WiFi ($10.00 /day value)
Late checkout — subject to availability
Priority restaurant reservations at Print Works Bistro, Green Valley Grill and Lucky 32 Southern Kitchen
A $10 restaurant voucher for each night's stay: Redeemable at Green Valley Grill, Print Works Bistro and Lucky 32 Southern Kitchen
Room upgrades — based upon availability at check-in
Complimentary QWLP treat upon check-in
Discounts on meeting and event room rental fees at O.Henry and Proximity Hotels
Event planning concierge service available Monday-Friday: 8:00 am-6:00 pm
Fine Print

Last Room Availability
Some blackout dates apply to discounted room rates
Group and QWLP discounted rates are not eligible for commission
$200 annual fee due when signing-up and at each anniversary date (renewal date). Fee renewal for the following year is waived if you actualized more than 40 rooms within the 12 months.
This $200.00 annual fee will be returned in the form of gift vouchers once 40 room nights are actualized in a 12-month period
The QWLP discount cannot be used in conjunction with another promotion or towards groups already contracted at the Proximity and O.Henry Hotels.
Please contact us for more information and rates at 336-478-9158 or email at [email protected]