A classy reception in caldwell
Diana and Thomas
Diana and Thomas's elegant, old-world wedding is the stuff  little girl's dreams are made of. For her wedding, the bride selected: roses, a soft color palate of peach, cream, champagne, and gold, a long mermaid-style lace dress fit for a princess, and of course, a prince charming. The couple who were introduced by a mutual friend two years ago, were married on a colorful fall afternoon. Diana had always loved the classy atmosphere of the O.Henry Hotel and knew that she and Thomas would have several guests attending the wedding from out of town. Comfort and convenience were important for them and they thought the O.Henry felt more like a grand home than a hotel, so the couple chose to have their wedding reception there. We're delighted to share their beautiful union, and we're flattered they also decided to host their rehearsal dinner at the Proximity Hotel, in the intimate Latham Room.
Following a wedding ceremony in the Phillips Chapel of the Canterbury School in Greensboro, the newlyweds celebrated their nuptials with a cocktail hour and seated dinner reception in the hotel's Caldwell Room. Outfitted with champagne and honey linens and gold chivari chairs, the candlelit ballroom was the perfect setting for their romantic evening.
The couple had their first dance to the vintage song "Paper Moon,"  the same tune Thomas serenaded Diana with outside his home the evening he proposed to her.
The Caldwell Room featured gold chivari chairs and accent tables dressed with gold-champagne floral linens. Each table was adorned with arrangements of soft peach and cream colored roses, dahlias and hypericum berries.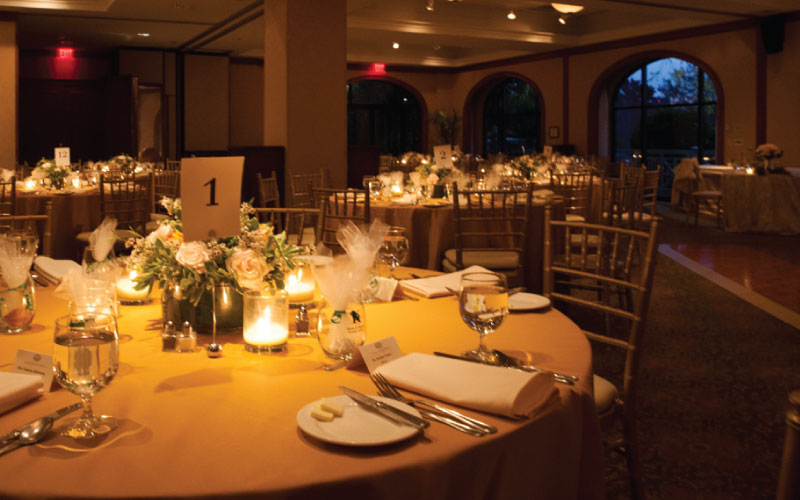 The dinner tables were draped in honey-gold linens, and the warm glow from the candles added to the romantic tone of the evening.
Stemless wine glasses screen-printed with their initial and their wedding date served as favors for the guests. A master guest-list was displayed in the foyer for attendees to find their seats.
The newlyweds make their grand entrance and guests sign the engagement photo-studded guestbook.
The bride and groom have their first dance to "Paper Moon."
The bride and groom share a kiss, a champagne toast, and some wedding cake.
Friends celebrate and get into the spirit with dancing and a fun photo booth.  Diana and Thomas pause for a laugh.
The bride and groom dancing the night away with friends and family.
Cocktail Hour Menu from Green Valley Grill:
Crispy Shrimp with Lemon Cumin Aioli
Balsamic Infused Tomato, Red Onion, Fresh Mozzarella and Pesto on Toasted Crostini
Fire-Roasted Chicken and Mushroom Bruschetta with Herbed Ricotta Cheese
Giacomo's Fresh Italian Sausage "Jacks" served with Fresh Mozzarella and Basil Pesto
Mini Crab Cakes served with Chili Lime Aioli
Chef Designed Plated Dinner Menu from Green Valley Grill:
Mixed Baby Green Salad with an Array of Julienne Garden Vegetables served with Five Herb Buttermilk and Balsamic Vinaigrette
Pan Seared Mediterranean Chicken with Roasted Garlic Marinara Sauce and Roasted Vegetables served with Red Roasted Potatoes and Green Beans
Oak Fired Angus Filet with Black Peppercorn Sauce, served with Mashed Potatoes and Green Beans
Crispy Risotto Cake Napoleon with Herbed Goat Cheese, Grilled Portobello Mushroom, Creamy Marinara and Wilted Spinach
Wedding Magic Makers:
Wedding Reception Venue: O.Henry Hotel, Caldwell Room
Chef Designed Menu and Catering: Green Valley Grill
Planner: Leigh Pearce
Florist: Sami Price—Just Priceless
Photographer: Abigail Seymour Photography
DJ: K2 Productions
Linens: Party Tables
Music: Corda Entertainment
Bakery: Cakes by Manfred (White Chiffon with Buttercream and a Ganache Filling)
Hair: UpDo's Studios
A joyous sendoff for the blissful couple!