Eastern Music Festival in Greensboro
June 25- July 30, 2022
Save
About Eastern music Festival
Save
For six decades, Eastern Music Festival (EMF), a nationally recognized classical music festival and summer educational program, has been produced on the campus of Guilford College, UNCG, and other venues in Greensboro, North Carolina. EMF is distinguished by its accomplished faculty, exhilarating repertoire, and world-renowned visiting artists under the artistic direction of Gerard Schwarz. A powerful teaching institution, EMF provides encouragement and guidance to over 265 young musicians from across the country and around the globe as they take pivotal steps towards careers in the performing arts.
O.Henry Hotel is delighted to be an Official Hotel of the wonderful Eastern Music Festival in Greensboro. Each summer, for five glorious weeks, our area is transformed for music enthusiasts of all ages whose tastes range from classical to jazz to bluegrass to rock and everything in between. Concerts and events happen daily.
Eastern Music Festival and School is one of this country's foremost training programs for aspiring young musicians between the ages of 14 and 22, presented within the nationally known summer music festival. EMFfringe concerts offer an eclectic and progressive series presenting the best of Americana, bluegrass, jazz, rock, blues, alt country, and world music.
The internationally recognized Eastern Music Festival will produce over 100 events – everything from Grammy-winning classical soloists with symphony orchestra (three resident orchestras to choose from) – to two chamber series, and including the EMFfringe series. Music Director Gerard Schwarz heads a distinguished list of participating artists.
As more and more of the world's top performers come here to work, teach and perform, gifted music students in record numbers from across the U.S. and abroad are vying for a place among the few who will be accepted to study and spend five weeks at Eastern Music Festival. And growing audiences from across the region are loving the great music.
The world's greatest artists — from classical soloists like Gil Shahamto crossover fiddler Mark O'Connor to trumpeter Doc Severinsen and bands like New Riders of the Purple Sage — are coming to EMF to work and refresh themselves. There is a vibrant energy at all performances — many sell out so you'll want to plan ahead — and it is intoxicating. And America is listening – performances recorded at EMF are featured regularly on National Public Radio's popular Performance Today program, broadcast on 264 stations nationwide.
The O.Henry Hotel is delighted to be a major sponsor this year. Visit us and discover music in a whole new way at EMF.
Click here for the complete EMF Schedule.
Save
Concert Schedule and highlights
The 2022 season will include 60+ performances by ensembles of varying shapes and sizes at EMF's home location in Guilford College's Dana Auditorium, as well as other locations in Greensboro, and one performance in Boone, North Carolina at Appalachian State University. The highlights this summer include:
Signature Performances: featuring EMF Faculty Artists, students, and friends of EMF

Wednesday, June 29: Pianist William Wolfram in recital
Thursday, June 30: Faculty and fellows perform an evening dedicated to Bach aptly named "Bach to Bach"
Friday, July 1: "Orchestral Celebration," a "Pay What you Can" evening featuring the Eastern Festival Orchestra and both EMF Young Artist Orchestras showcasing music by Beethoven and Brahms
Wednesday, July 6: Euphonium-Tuba Institute showcase featuring performances by esteemed faculty members Demondrae Thurman and Aaron Tindall, the EMF Euphonium-Tuba Ensemble, and the North Carolina Brass Band led by Dr. Brian Meixner
Wednesday, July 13: EMF and Greensboro Opera present two "I Love Paris" programs of operatic and popular music – 6pm and 8pm at Temple Emanuel
Wednesday, July 20: "Percussion Explorations" featuring the EMF percussion faculty
Sunday, July 24: EMF String Fellows Recital
Monday, July 25: "Overtures" by the Eastern Festival Orchestra led by the Festivals' Conducting Scholars
Wednesday, July 27: Classical Guitar Summit featuring performances by faculty members Kami Rowan, JIJI, and Jason Vieaux, and EMF Young Artists held at Temple Emanuel in Greensboro

Tuesdays: Chamber Music with the Eastern Chamber Players and a special performance on July 19 by The Mile-End Trio (Jeff Multer, violin; Julian Schwarz, cello; Marika Bournaki, piano)
Thursday and Fridays: EMF Young Artists Orchestras
Saturdays: Eastern Festival Orchestra led by maestro Gerard Schwarz featuring guest artists Lara St. John, violin (July 2), Santiago Rodriguez, piano (July 9), and Alexander Toradze, piano (July 30), as well as faculty members Jeff Multer, violin; Julian Schwarz, cello; Jason Vieaux, guitar; and Chris Gekker, trumpet
Student chamber recitals and piano recitals throughout the season
Five world premieres by living composers: Adolphus Hailstork (July 16), Paul Frucht & Avner Dorman (July 23), Michael Ippolito (July 20), Gerard Schwarz (July 7), and one NC premiere by Giacomo Susani (July 19)
Eastern Music Festival Package
Eastern Music Festival's performances are back! Make it a musical summer to remember. Stay in a graciously appointed guestroom, then make your way down to Green Valley Grill or Print Works Bistro for dinner with the included $30 dinner voucher. When you get back to your cozy room, slip into a comfy robe, share chocolate truffles and toast the evening with a glass of bubbly from a bottle of sparkling wine. Available nights there is an EMF Performance. Blackout dates apply.
Call 336-854-2000 to book or reserve online!
Eastern Music Festival Host Hotels
Check in to an inviting guestroom at O.Henry Hotel, where you'll experience custom-designed, finely crafted furnishings and AAA Four Diamond amenities. Enjoy dinner at Green Valley Grill and craft cocktails at our lively bar! The next day. spend a lazy afternoon in our luxurious Social Lobby while being served afternoon tea by our attentive staff!
Stay in sustainable style at our employee-owned, LEED Platinum Proximity Hotel! Unwind in a modern, loft-like guestroom with warm surroundings including custom, locally fabricated furnishings, original art by our artist-in-residence and AAA Four Diamond luxury hotel amenities. The next morning, enjoy a leisurely brunch at Print Works Bistro.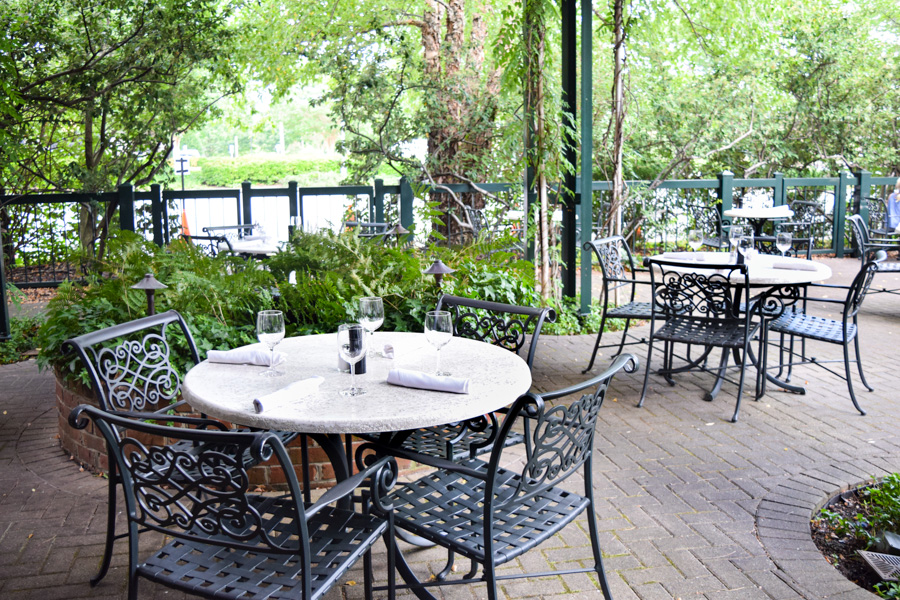 Green Valley Grill
Visit Green Valley Grill, adjacent to the O.Henry Hotel, and enjoy informally elegant fine dining and seasonal food using old-world European culinary sensibilities and Mediterranean flavors. GVG's wine list receives the Wine Spectator Award of Excellence each year and features 75 wines by the glass.The freshest food prepared by a passionate team, and served by friendly and competent people, is our recipe for a great dining experience.
Print Works Bistro
Print Works Bistro, adjacent to Proximity Hotel, uses fresh local ingredients to create extraordinary flavors and creative comfort foods. Enjoy traditional and modern versions of classic dishes popular in European-French bistros for a pre-competition breakfast, lunch and dinner. The vibrant dining room has walls of windows overlooking the gardens, with outdoor dining on a lovely creekside terrace.