Airy intimate wedding
Emily and Robert
THE WEDDING VISION
Emily and Robert got married in the same spot where Robert's mother and stepfather (Connie and John) had their wedding reception in 2010:  O.Henry Hotel's Cloister Garden. "We were initially going to just courthouse it," Robert said, because they only had six weeks to plan the event. However, his mother jumped in to plan a warm, intimate wedding that suited their personalities.
Emily says, "Connie was wonderful. She planned it all, but she gave us every opportunity to give our input." Above all, she and Robert wanted their guests to feel relaxed, so their goal for the wedding was to achieve a warm, airy, simple atmosphere. With rain in the forecast – according to old wives, a good omen for a marriage – Connie planned the reception to be in the Pavilion. This turned out to be a wise choice: The rain held off during the couple's Cloister Garden vows, then a storm blew through while the reception was in full swing. Once guests began to make their way home, the skies had cleared!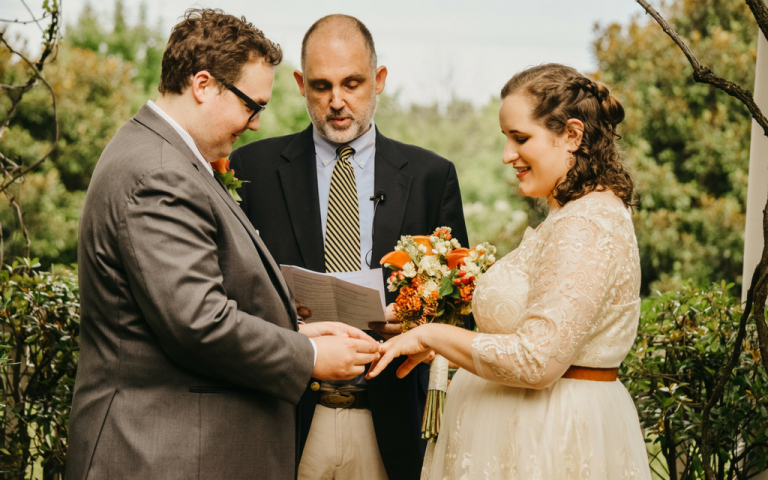 Emily and Robert say their vows in the Cloister Garden; Emily's vintage-style gown was a find from Modcloth, altered to fit her and accented with a belt.
THE COLOR PALETTE
The O.Henry's Cloister Garden and Pavilion provided the classic, simple environment Robert and Emily desired, without much need for additional ornamentation. Florals provided by Plants and Answers for the reception were in natural greens and whites; while the bride's bouquet and flowers on the wedding cake featured warm peach and apricot tones. Table settings were unostentatiously elegant, with white table linens, white votive candles, and white and green floral arrangements. Accents of gold in table numbers and Chiavari chairs completed the look.
Red velvet wedding cake with cream cheese frosting provided by Maxie B's was a hit.
THE FOOD
During cocktail hour, passed appetizers from Green Valley Grill included:
Caprese Crostini with Mozzarella, Roasted Tomato and Pesto
Chef's Seasonal Hand-Rolled Meatballs
Chorizo Cream Cheese and Tomato on Spicy Cheddar Crackers
Wild Mushroom Tart with Parmesan Cheese
Dinner began with a mixed baby field green salad offered with guests' choice of  dressing. Chef Design plated dinner options from Green Valley Grill were:
Cherry Tomato-Stuffed Portobello Mushroom with Spanikorizo and Wilted Greens
Parmesan-Crusted Chicken Breast with Herbed Goat Cheese, Lemon Garlic Sauce, and Crispy Capers
Wood-Fired Grilled Salmon with Vintage Sherry-Honey Glaze and Garlic-Thyme Butter
The chef's selection of starch and seasonal vegetables, along with sliced bread and butter accompanied each main dish.
The groom, looking dapper, with John and Connie McLendon, Liz Delk, Brian and Rebecca DeCook, Lee Anne and Jamie Woomert, Rachael Smith, and James Barker (photo bomb). Rachael, the groom's best friend since age 13, traveled from Arizona to be the couple's ring bearer and all-around "Girl Friday"
HOW THEY MET
From the moment they met five years ago online, Robert and Emily knew they had a good thing going. At the time, Emily was immediately impressed with the fact that Robert had perfect grammar – and Robert was impressed that Emily made the first move to connect. A few years later, with a string of positive occurrences – including a great new job for Robert, moving in together, and a baby on the way – under their belts, the pair decided to make it official in a simple, personal ceremony with just a small group of close friends and family.  Stay tuned for the couple's new addition, a baby girl expected in early January!
THE PROPOSAL
While the pair were agreed that a wedding was in order, Robert still wanted to make his proposal memorable. However, after a few failed attempts to make it special (a park visit that went south due to a rainstorm; a nice dinner out that ended early when Emily's morning sickness got the better of her) the couple decided to "unofficially make it official."
THE MOST MEMORABLE PARTS
Emily says that one amazing aspect of Robert's personality is that he never gets worried about things. Not surprisingly, he says he wasn't nervous at all as he stood with the officiant, waiting for Emily to come down the aisle. However, he was curious about what her dress would look like, and when he looked up to see her approaching, he felt absolute certainty that "This is who I am going to marry, and it's great. I almost cried because she was so pretty. That was a great moment that will stick with me the rest of my life."
For her part, Emily did feel nervous before saying the vows, but she says that, "After that, we both just felt calm and happy. I remember sitting at the sweetheart table being happy being married! And that feeling has stayed with us…this is the right thing."
One of the couple's other shared favorite memories was the moment when Robert's Uncle Brian got really excited because "he heard a SECOND Tears for Fears song on the playlist," which Robert had carefully crafted to be filled with 80s jams. Robert says, "I knew then that I had done a good job!"
THE WEDDING MAGIC MAKERS
Robert and Emily's wedding magic happened through the combined efforts of: