James Taylor Concert in Greensboro, NC
with his All-Star Band and special guest Jackson Browne
James Taylor is coming to Greensboro, NC on  November 19, 2021 at the Greensboro Coliseum. It's one night only, don't miss it! If you are visiting from out of town, check out our guide below for concert hotels, restaurants, tickets and more!
Where To Stay in Greensboro
You've got a friend at two of Greensboro's Top-Rated Hotels are just 3 miles from the Greensboro Coliseum! Both O.Henry Hotel and Proximity Hotel offer AAA Four Diamond Luxury amenities and attentive, friendly service.
Make the night extra special with an experience package from O.Henry or Proximity. Learn more!
Check in to an inviting guestroom at O.Henry Hotel, where you'll experience custom-designed, finely crafted furnishings and AAA Four Diamond amenities. Enjoy dinner at Green Valley Grill and after the concert, enjoy craft cocktails at our lively bar! The next day, spend a lazy afternoon in our luxurious Social Lobby while being served afternoon tea by our attentive staff!
Where to eat before the concert (or wind down after)
Check out Greensboro's locals favorite restaurants! Green Valley Grill and Print Works Bistro are top-rated with chef designed seasonal menus and an energetic bar to wind down after a night of music! Also see a few best kept Greensboro favorites in our Greensboro guide!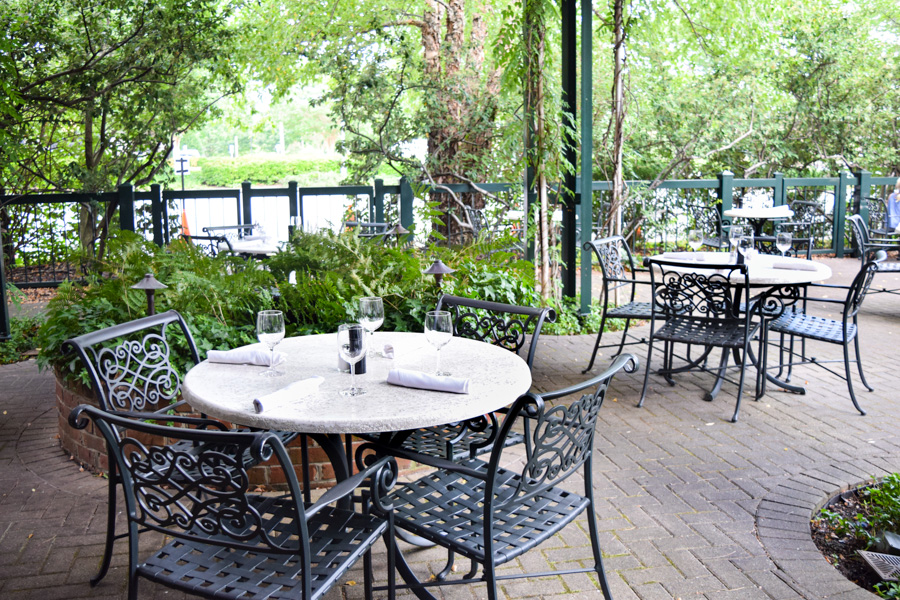 Green Valley Grill
Visit Green Valley Grill, adjacent to the O.Henry Hotel, and enjoy informally elegant fine dining and seasonal food using old-world European culinary sensibilities and Mediterranean flavors. GVG's wine list receives the Wine Spectator Award of Excellence each year and features 75 wines by the glass. The freshest food prepared by a passionate team, and served by friendly and competent people, is our recipe for a great dining experience.
Print Works Bistro
Print Works Bistro, adjacent to Proximity Hotel, uses fresh local ingredients to create extraordinary flavors and creative comfort foods. Enjoy traditional and modern versions of classic dishes popular in European-French bistros for breakfast, brunch, lunch and dinner. The vibrant dining room has walls of windows overlooking the gardens and a lively bar that has craft cocktails that change with the seasons.
Legendary singer/songwriter James Taylor & His All-Star Band with special guest Rock and Roll Hall of Famer Jackson Browne and his band are coming to Greensboro Coliseum on Friday, Nov. 19 for one intimate and memorable night!
As a recording and touring artist, James Taylor has touched people with his warm baritone voice and distinctive style of guitar-playing for more than 40 years, while setting a precedent to which countless young musicians have aspired.  Inducted into both the Rock and Roll Hall of Fame and the Songwriters Hall of Fame, the world-renowned artist has sold more than 100 million albums since he was first signed by The Beatles to their Apple Records label, won multiple Grammy Awards, and has earned multiple gold, platinum, or multi-platinum awards.  His Greatest Hits album alone sold more than 10 million copies.  In 2015, James was awarded the Presidential Medal of Freedom.  In 2016, he was a recipient of the Kennedy Center Honor. 
More than just a best-selling artist and legendary singer-songwriter, Jackson Browne has become an institution in American music selling over 18 million albums in the United States.
Directions to the Coliseum
Turn left onto Green Valley Road – Make a left onto Benjamin Parkway (0.9 mi) – Turn right on N. Aycock St (1.2 mi) – Turn right onto West Gate City Blvd (.5 mi) – Use the left 2 lanes to turn left onto Coliseum Blvd (.4 mi) – Turn right onto Ellington St – Coliseum Parking will be on your right.
Fun Things to Do in Greensboro
Our Friendly Neighborhood is a pretty cool place, so we've cooked up a few places to visit while you are in town!
Go two blocks to 125+ shops at Friendly Center.
Shop and tour the world's largest retailer of china, crystal, flatware and collectibles at Replacements, Ltd.
Take a walk through history at the Guilford Courthouse National Military Park or discover the sit-in movement of 1960 at the International Civil Rights Museum.