Greensboro Greenway
Greenways are defined as linear tracts of open space with the ability to connect people to destinations. These "corridors" usually parallel rivers or stream beds, but can also be found along abandoned railway lines or utility easements. Greenways enhance the overall quality of life in a community by promoting healthy activities, a clean environment, and potential economic benefits.
Along the greenway you'll find a number of gardens that are perfect to sit down and relax or enjoy the scenery.
Lake Daniel Greenway
The closest greenway to O.Henry Hotel is the Lake Daniel Greenway.  Make a right out of the Suntrust Parking lot on to the sidewalk on Benjamin Parkway.  Continue for about .8 miles until you can jump on the greenway at Elam Ave.
Located in Lake Daniel Park, the Lake Daniel Greenway is a paved multi-use path that stretches two miles from West Friendly Avenue to Mendenhall Street, west to east, paralleling Benjamin Parkway most of the way. Exercise stations are situated along the path for a great workout. In addition, the park offers public tennis courts, a basketball court, and a children's playground.
Atlantic & Yadkin
Distance From Hotel: 2.2 miles | About 15 minutes by bike
The Atlantic & Yadkin Greenway (A&Y), Greensboro's only current Rail Trail, provides opportunities to catch a glimpse of nature as well as reach urban destinations. Spot common and migratory birds, including bald eagles, blue herons, egrets, ospreys, and several duck species as you travel through the watershed. Many native plants and wildflowers grow in the shadows of mixed hardwoods and pines along this abandoned railway also. Take a break at the H. Michael Weaver Bridge to enjoy the scenic beauty of Lake Brandt. The A&Y provides a scenic alternative transportation route to Battleground Avenue for bicycle and pedestrian commuters. This greenway will encourage residents to travel via the greenway between businesses along the corridor.
BOG GARDEN
This garden features an elevated boardwalk which meanders through 7 acres of natural wetlands. Stone pathways traverse a forested hillside, and visitors can enjoy the sounds of water at Serenity Falls – a re-circulating waterfall – while viewing the many varieties of plants, birds, and other wildlife inhabiting the area.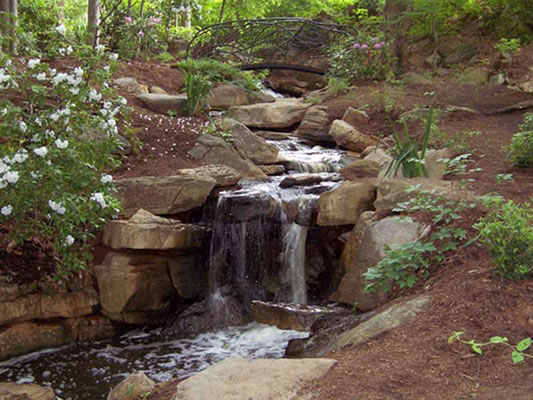 TANGER FAMILY BICENTENNIAL GARDEN
Known for its massive annual plantings and bronze sculpture, this 7.5-acre garden is a popular and relaxing retreat.
A Wedding Gazebo adds an air of elegance, a man-made re-circulating stream provides texture, movement and sound, and a Sensory Garden engages visitors in an interactive landscape experience. A variety of sculpture placed throughout the garden provides artistic and historic interest, and a Paver Plaza, located at the garden's entrance, offers a way to lend your name to the garden.
GREENSBORO ARBORETUM
This 17-acre site features 14 plant collections, special display gardens and distinct structural features. The extensive variety of plants offers rich educational opportunities for children and adults, landscape designers, and homeowners.
From manicured flower beds to woodland trails, discover our garden guide to the Gate City.