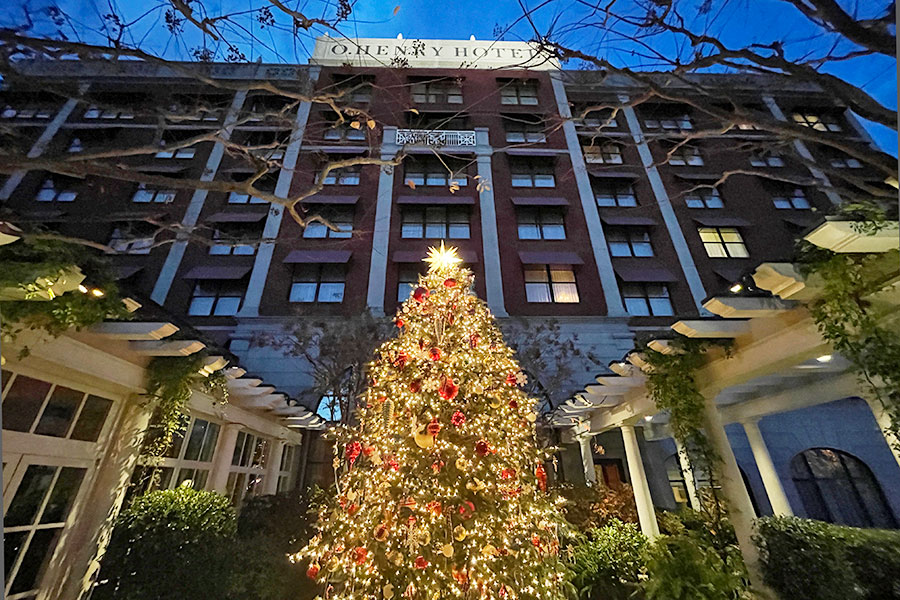 Holidays at O.Henry Hotel & Proximity Hotel
Please visit us at the O.Henry and Proximity hotels during the holiday season and start a new tradition with family and friends! Whether you live in our neighborhood or are visiting Greensboro to connect with folks, take a look at our special hotel packages, dining options and happenings over Thanksgiving, Christmas and New Year's Eve!
If you have never stayed at O.Henry Hotel during the holidays, you are in for a treat. Our big Christmas Tree in the Don Rives Cloister Garden has been a favorite backdrop for photos for many years. Read about our many other amenities and services, including dining at Green Valley Grill and Afternoon Tea in the Social Lobby and our Holiday Tea Salon.
O.Henry & Proximity getaway special:
$349/Night with a $100 dining Credit
Slip away with your sweetie for some "us" time and enjoy a romantic dinner, lunch, afternoon tea or room service with this great offer. Includes generous credits to dine at Green Valley Grill, Print Works Bistro, Lucky 32 Southern Kitchen or Afternoon Tea in the O.Henry Hotel's Social Lobby. Sometimes romance isn't spontaneous, sometimes it is planned spontaneity. Plan your spontaneous romance now! Limited-time offer. Rates may vary. Limited availability. Advanced dining reservations are highly recommended during the holidays. Blackout dates apply.
CELEBRATING FRATERNAL TWINS AT 25!
On November 24, 2023, raise a glass to celebrate the O.Henry Hotel and Green Valley Grill because it's their 25th birthday. Our hope is that the next 25 years are as joyful and energizing as the first quarter-century. And we promise that taking great care of you, our guests, and of course, our wonderful colleagues, will remain our top priority. Cheers!
READ THE FULL STORY in the latest QW Winter 2023 Neighborhood Letter
Save 25% on Romance!
Celebrate O.Henry & GVG's 25th Anniversary
We've got the mise en place for romance: Come see what you can cook up! Packages and offers have limited availability and rates vary.
Two Hearts, Two Nights Package
Wink, Wink Romance Package
Three Wishes Getaway
Spontaneous Romance
Endless Honeymoon
Anniversary Package
Sustainable Romance (Proximity Hotel)
Elegant Escape (O.Henry Hotel)
Dress for Dinner Rendezvous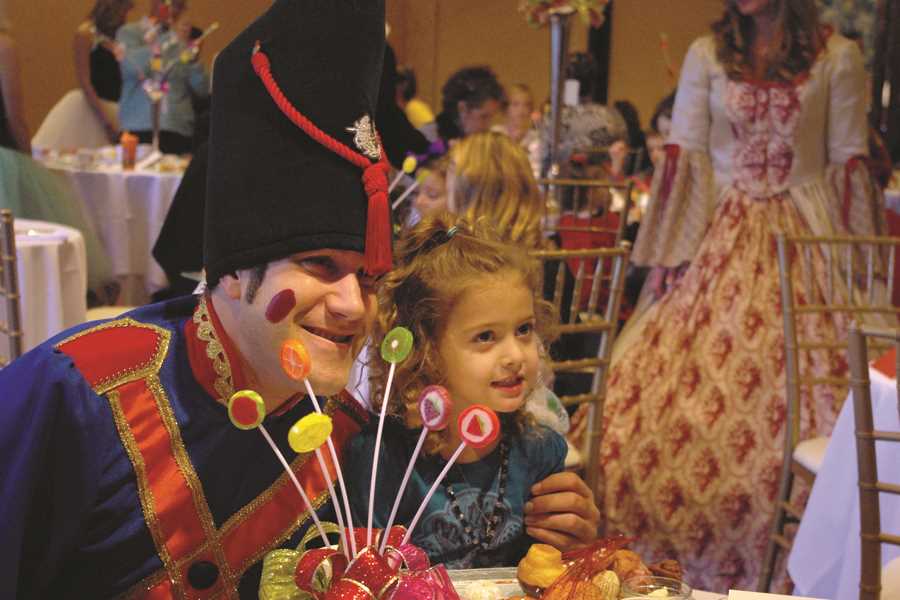 HOLIDAY NUTCRACKER TEA
2023 Nutcracker Tea Dates: Sunday, Nov. 26 and Dec. 3, 10, and 17 | 11 AM and 3 PM
We invite you and your family to a Holiday Tea featuring The Nutcracker. The story of The Nutcracker will enchant all ages as we combine traditions of the holiday season with afternoon tea. Get Tickets.
Christmas Eve and New Year's Eve Jazz
December 24, 2023 7 – 10 PM
In addition to Thursday Night Cocktails and Jazz and our Saturday Jazz Series of performances, Diana Tuffin (vocals), Matt Reid (piano), Matt Kendrick (bass), and Neil Clegg (sax) will join us for a special Christmas Eve show.
December 31, 2023 | 6 – 9 PM & 10 PM – 12 AM
We're hosting two special New Year's Eve performances in the Social Lobby for those who want to celebrate early (from 6-9 PM PM with Jessica Mashburn and the O.Henry Trio or late, from 10 PM – 12 AM with Diana Tuffin and Matt Reid Trio. Arrive early for a seat! No cover charge!
AFTERNOON TEA HOLIDAY HOURS
Taking tea in O.Henry's Social Lobby has become a Greensboro tradition. In fact, it's so popular that we've expanded the hours for the Holiday Season!
Holiday Hours:
Nov. 28 to Jan. 7, Noon – 5 PM (Thursday 11 AM – 2 PM only).
November 17: 11 AM – 2 PM
Christmas Eve, December 24, 11 AM – 3 PM
Christmas Day, December 25, 12 – 5 PM
Regular Hours: Friday, Saturday, and Sunday, Noon – 5 PM; Monday_Wednesday, 2-5 PM, and Thursday, 11 AM – 2 PM
Online reservations are highly recommended. Afternoon tea reservations are limited to a maximum party size of 10 guests. Make a reservation online here.
Check out our hand-picked gift ideas that we think will delight your friends and family and make the holiday shopping a little easier on you to boot!
We can customize a gift certificate with you for a hotel night stay (or even a variety of packages) for your fortunate recipient. You can also purchase Gift Cards online for our restaurants, Print Works Bistro, Green Valley Grill or Lucky 32 Southern Kitchen. The best part is that they can be used at all of our hotels and restaurants!
GREEN VALLEY GRILL HOLIDAY HOURS
Green Valley Grill is open Christmas Day, serving our dinner menu plus "traditional favorites".
Holiday Hours Christmas Day (12/25):
Breakfast 7 AM – 9 AM
Dinner 11 AM – 8 PM (bar closes at 8 PM)
To make a reservation call 336-854-2015 or reserve online!
Greensboro Hotel New YEar's Eve Packages
O.HENRY CHEERS TO 2024
Check in to your graciously appointed room with priority dinner reservations and includes $50 dining credit. Awaiting in your room, toast the New Year with a bottle of sparkling wine and a choice of charcuterie or romantic sweets plate. Available December 29 – January 2, 2024.
2 NIGHTS, 3 WISHES NEW YEAR'S PACKAGE
Stay over for two nights in an extraordinary bedroom, plus choose three of these special amenities to celebrate the arrival of 2024. Available for arrival December 29 – January 2, 2024.
Includes
Extraordinary Bedroom
Choose Three of These:

$50 Dining Credit to GVG, PWB or L32
Bottle of Bubbly or Still Wine
Charcuterie or Cheese Plate
Deluxe Adult Play Kit
Deluxe Bath Kit
Stay Longer – Early Check-In and Late Checkout
If Available, An Even Nicer Bedroom
*Requires reservations in advance. Based on availability.
Greensboro Holiday EVENTS
Sunset Hill Running of the Balls
December 16, 2023, at 6 PM
This night run on a 5K course through Sunset Hills takes participants through the largest neighborhood light display in the United States. Started years ago, the residents of this neighborhood decorate their 50′ tall trees with 1′ wide "Lighted Christmas Balls". This unique display from these unique people creates an atmosphere the whole family can relish. Proceeds go to benefit the Second Harvest Food Bank
Greensboro Science Center Winter Wonderlights
November 22, 2023 – December 31, 2023
Celebrate the holidays with your loved ones surrounded by shimmering lights, brilliant colors, and joyful sounds of the season!