Why make these hotels your base for romantic getaways?
A romantic environment most often seems to be the result of a combination of things that delight our senses and stir our emotions. What (who) we see, the light we see them in, what we hear, and what (who) we touch (careful!) are all part of the experience. And we shan't forget smell and taste, senses that when staying at these hotels can be piqued by simply touching one button on the phone for room service or a different button on the elevator to get to the Green Valley Grill or Print Works Bistro…or maybe a short complimentary London taxi ride to the restaurant at the sister hotel or Lucky 32 Southern Kitchen. We have it set up so that you can delight all of your senses. All you and your special someone need is each other and each other's attention.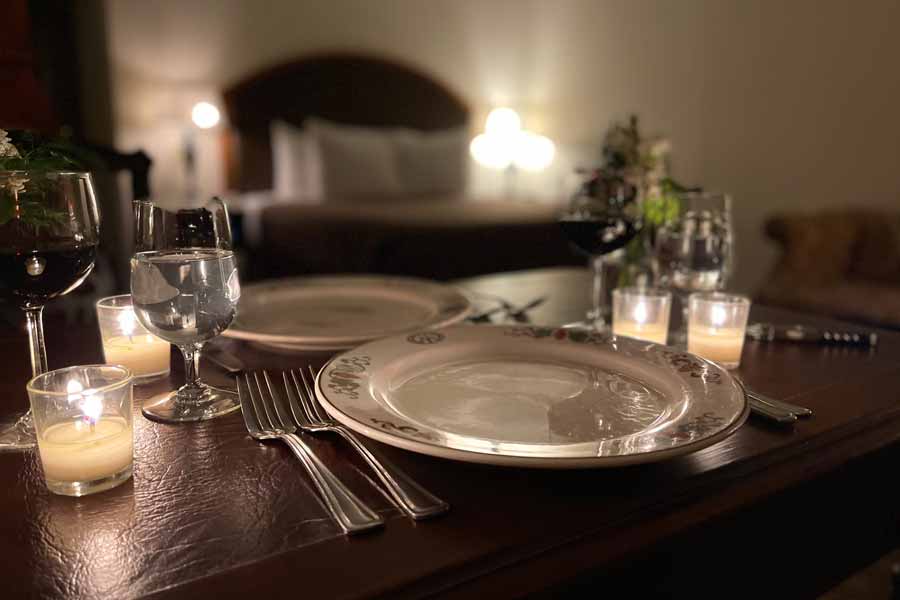 Order room service and dine under our new ethereal ceiling murals.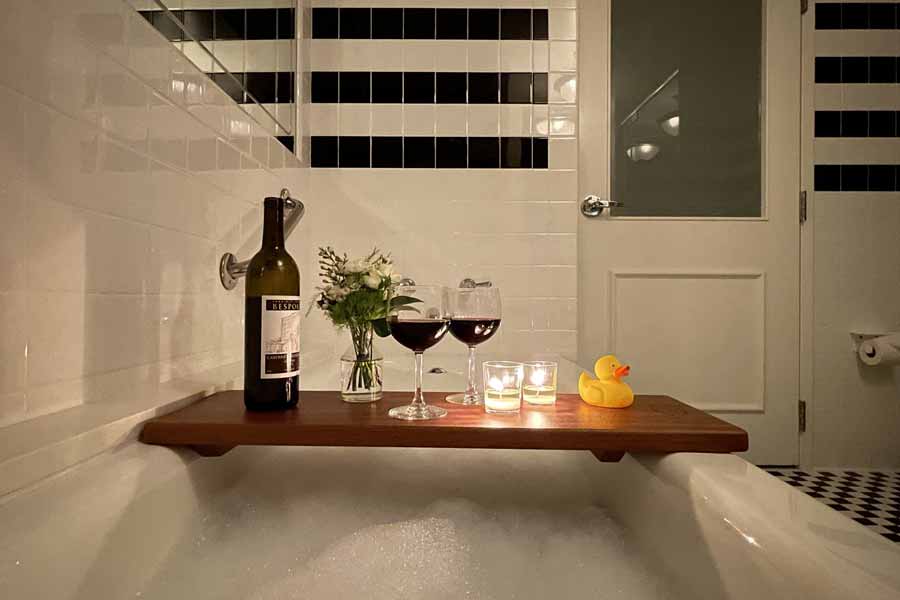 These hotels and restaurants already have a boatload of Romance DNA. Now, with the enhancements we've made to the lighting, music, and a number of other things, it is even more likely that you can set just the right mood. Beyond those improvements, recently we've elevated other details at both hotels. We've done the most work at the O.Henry. There, we completely redid the bathing rooms by expanding the terrazzo-based, quartz-curbed, glass-enclosed shower; raising the cast iron soaking tub; and tiling the walls floor to ceiling with etched mirrors set a halfinch into the tile. They are really something! Each bedroom has new ZenHaven mattresses by Saatva that rest gracefully on an extraordinary piece of furniture: a honeyed pine paneled platform that as made one at a time over the course of a year by our amazing QW Craft Guild colleagues. Talented artists spent about nine months painting ethereal clouds on the bedroom ceilings. We even put stereo speakers in the bathing rooms. We've never found a hotel with that feature. Imagine being in one of the fabulous deep soaking tubs with its QW Craft Guildmade bath caddy, complete with its ever-joyful rubber duck and book stand, listening to your favorite tunes with just the right mood lighting. Oh, back in the bedroom, you can now play content from your phone, tablet, or laptop on the TV.
I digress. I'm excitable. Getting me talking about these places is like asking someone about their kids; you'd better have some time. Again, these are just a few things. Learn about the offerings by clicking on the "Romance" tab on our websites or by calling. And you can learn more about the features and improvements at the hotels by clicking on ohenryhotel.com/features and proximityhotel.com/features on the websites.