A Fairy Tale Wedding
Stephanie and Tim
THE WEDDING VISION
Stephanie and Tim gathered with their closest family and friends to be celebrate their wedding. They were drawn to O.Henry for its traditional ambiance and elegant decor. Stephanie knew that the the Pavilion and Cloister Garden would make be the perfect fairy tale backdrop for their wedding
How They Met
Stephanie and Tim met at work and Stephanie immediately knew that she wanted to get to know him better.  However, they worked in different departments so it was difficult to find an opportunity to start a conversation. Stephanie decided to bring cupcakes to share with his office and create an opportunity to talk with him. After the cupcake icebreaker, Tim would leave little notes on her desk and eventually asked Stephanie out.  About a month after they started dating, Stephanie's mom said, "I think he's going to ask you to marry him."
The Proposal
It was Tim's 35th birthday and Stephanie planned a wonderful trip to the Napa Valley wineries in California.  His grand plan of a romantic walk through the vineyard was where he was going to propose. He'd planned on wearing his tennis shoes to neal down and tie his shoes and present the ring then, but that morning while getting dressed, Stephanie suggested loafers—because they looked better with his outfit. It botched his plans! Stephanie noticed that Tim didn't seem to be having as much fun and was worried that he wasn't enjoying the trip. Little did she know, he was just a bundle of nerves because he was about to propose but his perfect plan was derailed! So he made do with the loafers and got down on one knee on a romantic walk though the vineyard and of course she said "yes".   They both enjoyed enjoyed the rest of the trip.
The Wedding Dress
Stephanie and her mom took a very special trip to New York City to go dress shopping at Klienfelds from the show "Say Yes to the Dress." "It was such a wonderful weekend in New York, I got to spend special time with my mom and even work directly with the designer of my dress!" It was a dream come true.
The Wedding Day
The bride and groom enjoyed a full day of meaningful, beautiful events with their loved ones and friends. Stephanie, assisted by her mother and family, prepared for the ceremony in a Ready or Knot suite. Her Aunt and Cousin hosted a small intimate buffet luncheon by Green Valley Grill's culinary team in the suite for the Bridesmaids as everyone was getting ready for the Big Day! Tim got buttoned up in O.Henry Hotel's Magi Suite with his father and friends. The ceremony began at at 5 p.m. under a tented cloister garden and then moved in to the Pavilion for the cocktail hour of passed hors d'oeuvres and a plated dinner for the reception. Dancing ensued with a playlist of special music provided by the Bride's sister, Meredith.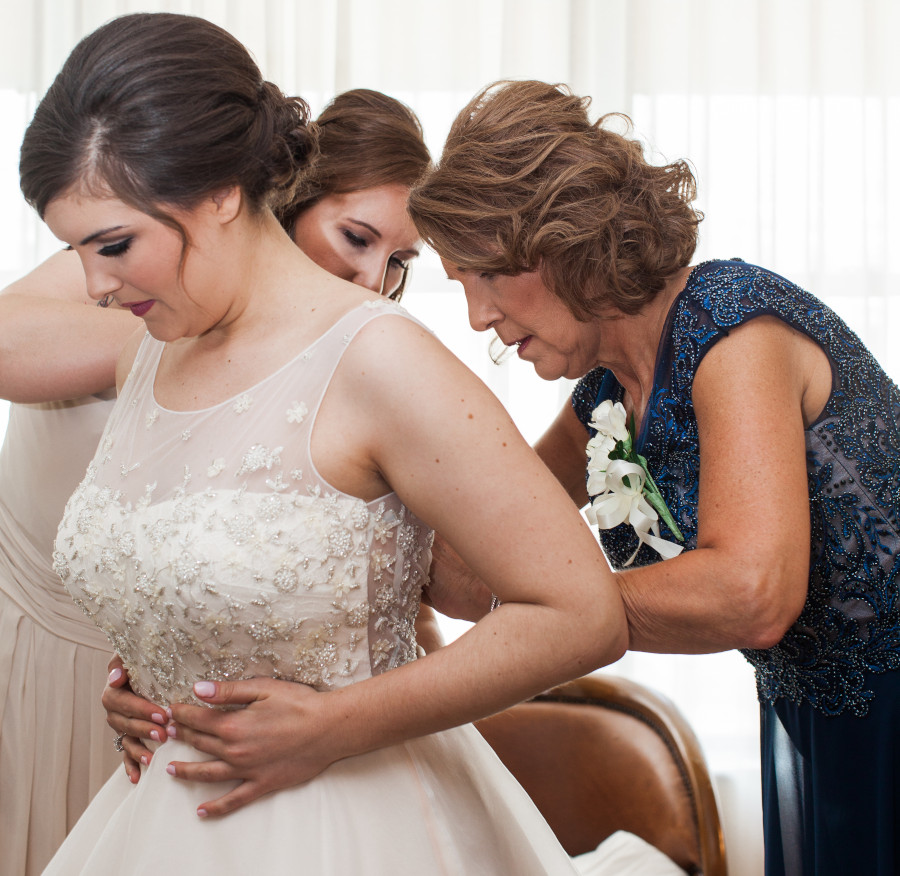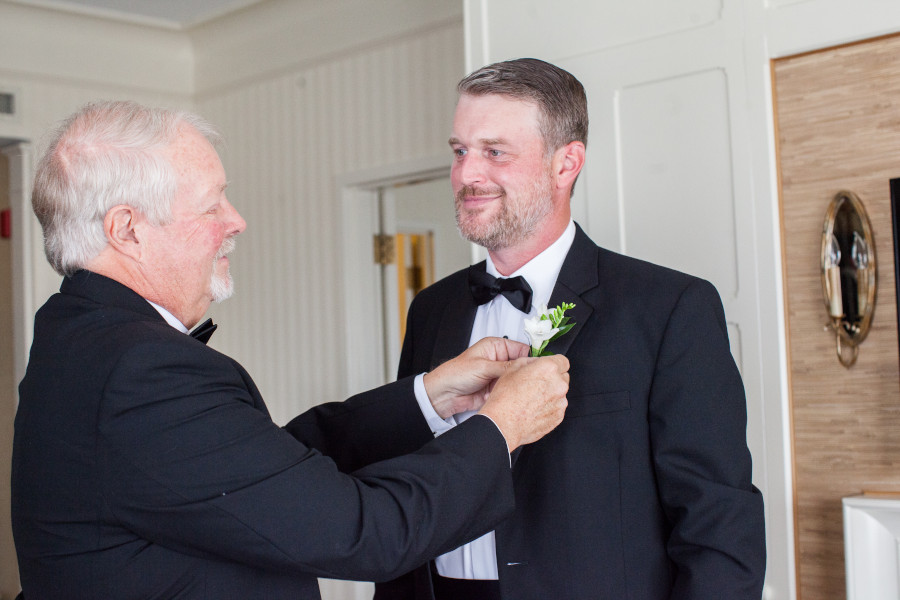 The Color Palette
The color palette was chosen to complement the O.Henry Hotel Pavilion Room and Cloister Garden. Tablescapes were decorated in ivory and neutral color with gold chaivari chairs. Blush tones taken from Stephanie's wedding dress added the accent color in the floral arrangements.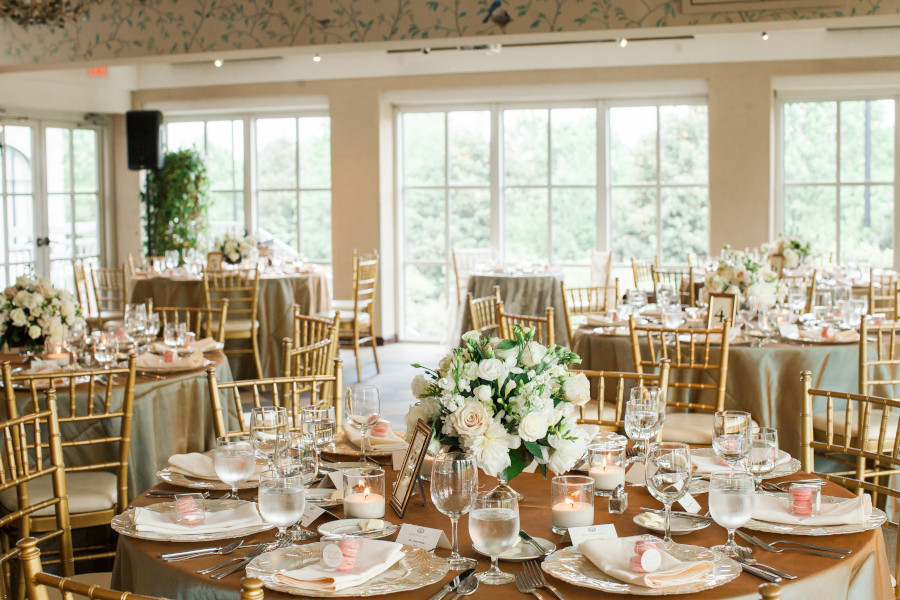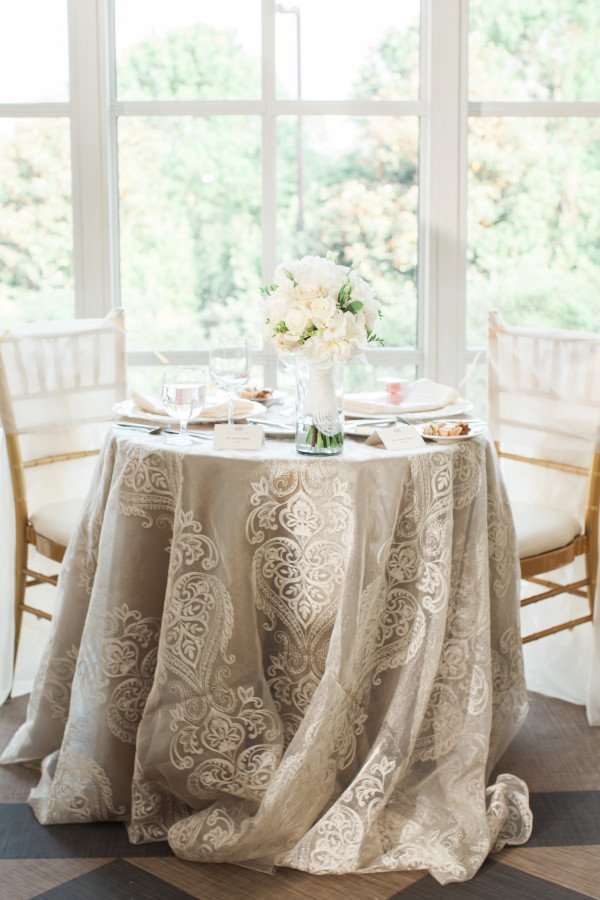 Special decor of decadent linens and sheer chivari chair covers from a pallete elevated Stephanie and Tim's light filled O.Henry Hotel Pavilion and Cloister Garden wedding.
THe Menu designed by Green Valley Grill
Passed Appetizers

Wild Mushroom Tart with Parmesan Cheese
Caramelized Onion, Sun-dried Tomato & Goat Cheese Tart
Fried Artichoke Hearts with Cipollini Aioli
Wood Fired Duck Breast with Piquillo Chimichurri, Shaved Manchego on a Crispy Pork Skin

Platted Dinner

Parmesan Crusted Chicken with Herbed Goat Cheese, Lemon Garlic Sauce and Crispy Capers served with Mashed Potatoes and Green Beans
Oak Fired Angus Filet with Pancetta Sauce served with Herb Roasted Potatoes and Asparagus
Wood-Fired Grilled Salmon with Vintage Sherry-Honey Glaze and Garlic-Thyme Butter served with Wilted Spinach Greens and Polenta
The Wedding Cake was a Strawberry Buttercream from Maxi B's Bakery.
The Cloister Garden was set up theater-style facing the pool with twinkle lights accenting the tent. Gold chiavari chairs were arranged for guests to view the wedding.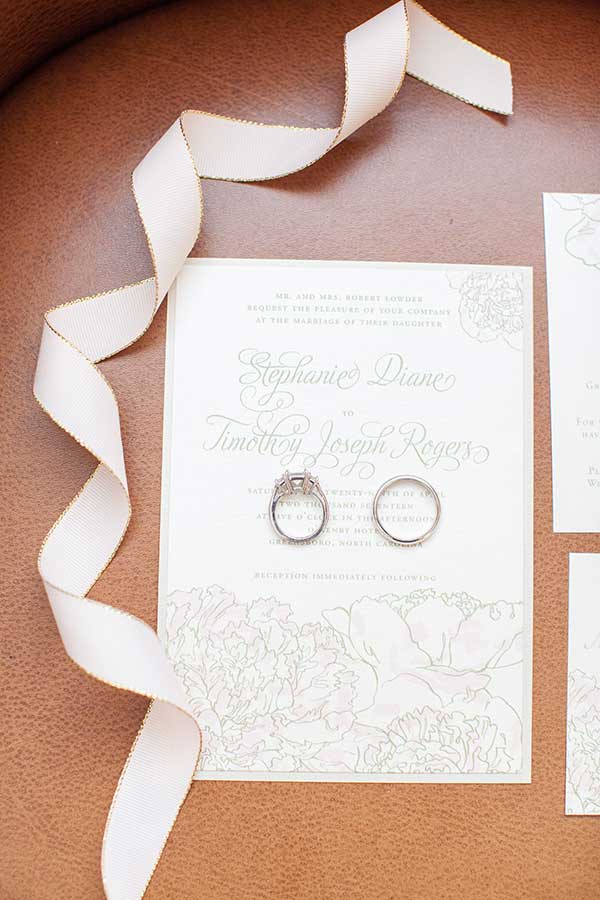 Stephanie and Tim invited fifty of their closest friends and family who are near and dear to their hearts to share the special moment. Some traveled a long distance to attend the small intimate wedding and stayed overnight at the hotel to enjoy all the festivities of the weekend.