Valentine's in Greensboro
Let us help you celebrate Valentine's with your sweetie at our hotels and restaurants. We have a few perfect Valentine's date night ideas that will enchant you and your special someone. Take a look at our romantic hotel packages and dining. They'll help you set the mood all month long to make it the sweetest Valentine's ever.
Give our Romance Advisors a call or send an email to [email protected] to chat discreetly about creative ways you can design one-of-a-kind sweet or intimate romance at our places.
If you have never stayed at O.Henry or Proximity Hotel for Valentine's, you are in for a sweet treat. You'll discover our gracious hospitality, attentive service and modern features, including inviting guestrooms with custom furnishings (you'll love our extra-comfortable Magi bed) and original art in every corner of our AAA Four Diamond luxury hotel. Our many amenities include dining at Green Valley Grill, Print Works Bistro, Afternoon Tea in the Social Lobby and much more.
Greensboro Valentine's Hotel Packages
Check out our list of packages from classic romance to something a little naughty at both O.Henry and Proximity Hotel.
The Best Package for Classic Romance
Two Hearts Two Nights
Create some special "us" time! Arrive arm-in-arm where you'll enjoy a sumptuous dinner at Print Works Bistro with the included $50 dining credit. Later in your room, our romantic turndown sets the mood as you settle into your love nest. Relax and rejuvenate with a luxury sensual body kit. Add a personal touch to your stay with the $30 amenity voucher that can be redeemed for a la carte amenities, dining, Afternoon Tea at O.Henry Hotel and more. Turn up the passion the next night with your provocative play set while you sip wine, nibble on cheese (and each other).
Includes:
Extraordinary Bedroom
$50 Dining Credit to GVG, PWB or L32
Priority Dining Reservation
Late Checkout
Night One

Turndown Service to Set "The Mood"
Luxury Sensual Body Kit
$30 Amenity Voucher

Night Two

Bottle of Bubbly or Still Wine
Charcuterie or Cheese Plate
Provocative Play Set
The Best Package for something a little naughty
Wink, Wink Package
Spice up your romance. Start your sexy getaway with your special someone in a loft-like guestroom with a turndown service that includes a romantic flower arrangement, turndown, sparkling wine, romantic sweets or cheese trio, romantic music playing softly in the background, a provocative surprise and couples game to keep it lively (wink, wink). Keep the passion going the next day with breakfast in bed.
Includes:
Extraordinary Bedroom
Romantic Sweets or Cheese Plate
Bottle of Bubbly or Still Wine
Adult Playset or Getaway Travel Kit for Lovers
Sexy Couples Game
Breakfast in Bed
Turndown Service to Set "The Mood"
The Best Package for Creating your perfect date night
Three Wishes Getaway
Let us fulfill your wishes! Create your very own unique experience by checking into one of our King rooms and pick three amenities you've always wished for. Orchestrate the perfect romance, fashion a birthday to remember, devise an anniversary of a lifetime or invent that much-needed relaxation getaway…just the way you like it.
Includes:
Extraordinary Bedroom
Choose Three of These:

Bottle of Bubbly or Still Wine
Housemade Romantic Sweets
Breakfast in Bed
Charcuterie or Cheese Plate
Provocative Playset
Getaway Travel Kit for Lovers
Housemade Chocolate-Covered Strawberries
Tasteful Medium Floral Arrangement*
Afternoon Tea for Two (including traditional victuals
in the O.Henry's commodious Social Lobby)
$50 Dining Credit to GVG, PWB or L32
Stay Longer – Early Check-In and Late Checkout
If Available, An Even Nicer Bedroom
The Best Package for A Romantic evening at the Symphony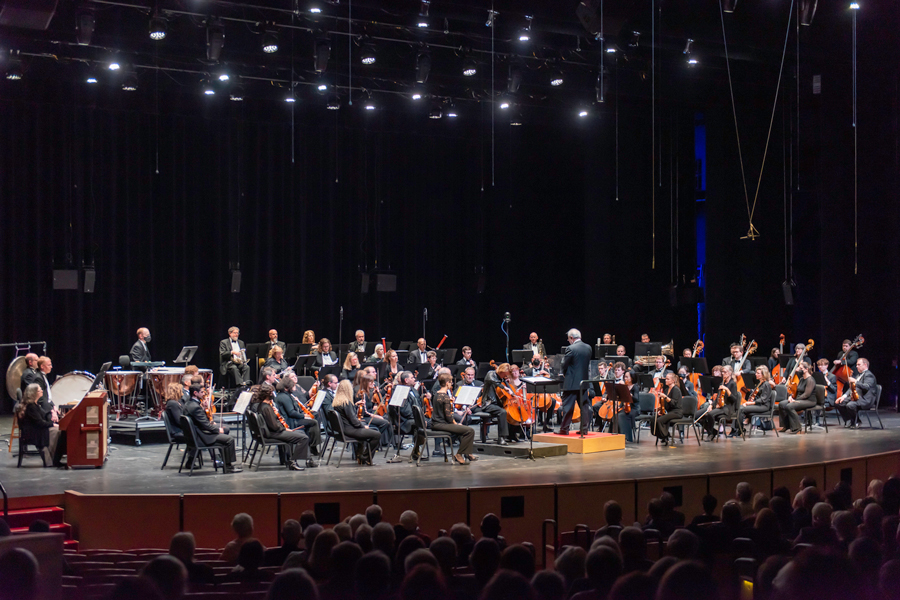 Greensboro Symphony Package
February 11, 2023 – John Pizzarelli and Catherine Russell pay homage to legends Billie Holliday and Frank Sinatra!
February 18, 2023 – A German Requiem
Enjoy a Greensboro Symphony performance in style. Stay in a graciously appointed guestroom, then make your way down to Green Valley Grill or Print Works Bistro for dinner with the included $30 credit certificate. With two tickets in hand, you're off to the performance. When you get back to your cozy room, you can slip into something more comfortable and share a bottle of wine and chocolate truffles.  Package available nights there is a Greensboro Symphony performance.
Includes:
Extraordinary Bedroom
$30 Dining Voucher to GVG, PWB or L32
Two Tickets to the Greensboro Symphony Performance
Bottle of Bubbly or Still Wine
Housemade Chocolate Truffles
MOre Romantic Packages
There's more from where these came from. See all our romantic packages available this February and the whole year!
Special Valentine's Events
Valentine's Jazz at O.Henry Hotel
Join us for Cocktails and Jazz at O.Henry Hotel! We have special Valentine's performances planned for to keep the romance going! Enjoy vintage craft cocktails and delightful seasonal tapas along with varied styles of jazz. No cover charge! Learn More.
Saturday, February 11, 7-10 PM:  Liz Penn & Georgianna Penn
Tuesday, February 14, 6-9 PM: Sarah Strable
Thursday, February 16, 6-9 PM: Matelyn Alicia
Saturday, February 18, 7-10 PM: Siren Series Jazz
Live Music Wednesday
Print Works Bistro  | February 16
Live acoustic music from 6–9 PM by Evan Olson and Jessica Mashburn of AM rOdeO. Fantastic covers and original live music. No cover charge!
Valentine's Day Dining
Insiders Tip: reservations fill quickly. Make your reservation as early as possible or book one of our Valentine's packages with guaranteed restaurant reservations!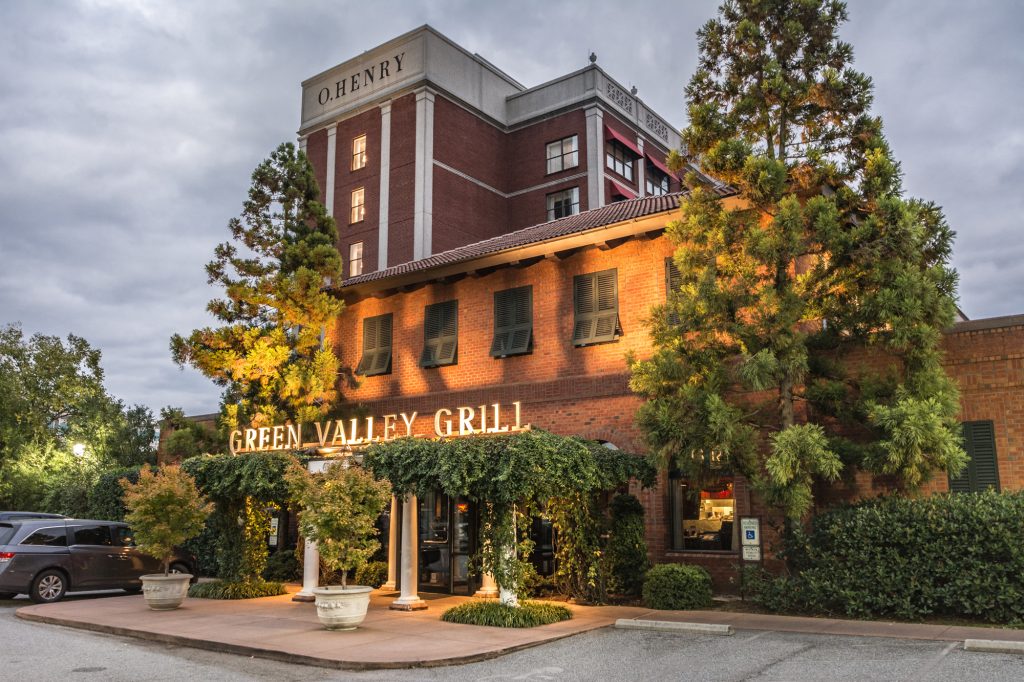 Green Valley Grill
Adjacent to O.Henry Hotel, Green Valley Grill offers fresh, seasonal old-world European and Mediterranean flavors from the wood-fired rotisserie and grill. Unwind at their lively bar and enjoy craft cocktails and more than 75 wines by the glass.
Reserve online or call 336-854-2015.  
Print Works Bistro
Adjacent to the Proximity Hotel, Print Works Bistro features classical and modern versions of French bistro dishes created with locally sourced food!  Experience an energetic bar with a craft cocktail list that changes with the seasons.
Reserve online or call 336-379-0699.  Reservations fill up quickly!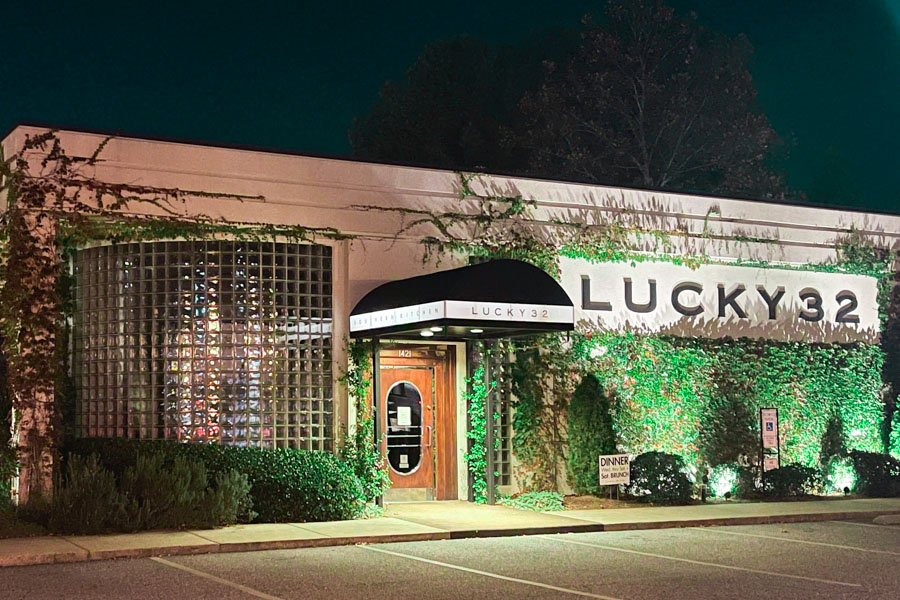 Lucky 32 Southern kitchen
EARNEST FOOD AND HOSPITALITY IN AN UPSCALE JOINT
Lucky 32 Southern Kitchen features exceptional renderings of classic Southern dishes made with plenty of local ingredients.
Reserve online or call 336-370-0707.  Reservations fill up quickly!