Greensboro Coliseum Concerts and Sports
---
O.Henry Hotel is just three miles from the Greensboro Coliseum and Special Events Center. In addition to the many world-class concerts and sporting events, the complex includes the Greensboro Aquatic Center, the ACC Hall of Champions and White Oak Amphitheater.
Our nearby location and long list of amenities combine for a trip with lifetime memories.  Book Online.
Concerts and special events
Elton John: Farewell Yellow Brick Road Tour
May 23, 2020
The Farewell Yellow Brick Road Tour marks the superstar's last-ever tour, the end of half a century on the road for one of pop culture's most enduring performers. Kicking off to a sold-out crowd on September 8, 2018 in Allentown, PA, the tour
has since then received rave reviews in every market.  Taking the audience on a magical journey through his career, the show features some of Elton's most beloved songs from his legendary catalogue including, "Bennie and the Jets," "Rocket Man," "Tiny Dancer," and "Philadelphia Freedom." Elton's music has taken him to many places, opened many doors and inspired many passions in his life. The audience will experiences a rare glimpse into Elton's life and the deeply personal meaning behind some of his greatest hits, with mesmerizing, never before-seen photos and videos shown throughout the show from his incredible 50-year career. Learn more! 
for KING & COUNTRY
June 13, 2020
Two-time GRAMMY award-winning duo for KING & COUNTRY makes a powerful statement with their much-anticipated third album, Burn the Ships, an epic, sweeping musical landscape that explores themes of new beginnings, forgiveness, hope, and love.
The album's soaring debut and GRAMMY® nominated single, "joy," which features a 100-person choir and a hypnotic wave of rhythm and electronic sounds, hit No. 1 and has been streamed more than 18 million times. The lyrics cut through the cacophony of societal noise to remind us about what is important: "Oh, hear my prayer tonight. 'Cause this is do or die. The time has come to make a choice. I choose joy."
The inspiring pop masterpiece also represents the exciting adventure into unchartered territory for brothers Joel and Luke Smallbone, who were propelled into superstardom with the release of their critically acclaimed sophomore album, RUN WILD. LIVE FREE. LOVE STRONG., which debuted at No. 1 on iTunes and was certified gold. In addition to winning two GRAMMYs and four Dove Awards, the duo performed internationally on a hugely successful 60-date arena tour.
They have garnered four No. 1s ("joy," "Priceless," "Fix My Eyes," and "Shoulders"), nine Top 10 hits, and had songs featured on the Emmys, Super Bowl, Sunday Night Football and many other high-profile events, including performances on The Tonight Show, Today and Jimmy Kimmel Live!
Janet Jackson: Black Diamond World Tour 2020
July 5, 2020
Miss Janet Jackson kicks off her Black Diamond World Tour this summer to arenas across North America. The outing will feature an all-new production featuring new music from her highly anticipated, forthcoming album "Black Diamond", set for release this year. Performing songs from her 12 multi-platinum albums including a special performance of Rhythm Nation 1814, which recently marked its 30th Anniversary.
Janet Jackson is one of the most influential entertainers of the modern era. Her music has won her five GRAMMY® Awards, two Emmy Nominations, a Golden Globe Award and a nomination for an Academy Award along with dozens of American Music Awards, MTV Video Music Awards and Billboard Music Awards. She has received accolades as an actress as well including the NAACP Best Supporting Actor award.  Janet, a Rock and Roll Hall of Fame inductee, is also a published author, dancer, businessperson, philanthropist, in addition to being one of the biggest-selling artists in popular music history. With sales of over 185 million records worldwide, Janet Jackson stands as one of the best-selling artists of all time with a string of hits that have left an indelible impression on pop culture. Her music and artistry opened doors through which other top artists have followed, many acknowledging her impact on their musical perceptions.
Justin Bieber: Changes Tour
July 29, 2020
Grammy Award®-winning global superstar Justin Bieber, announced his 5th studio album CHANGES will arrive February 14th, via RBMG/Def Jam Recordings, along with the official public on-sale for tickets to the Changes Tour, presented by T-Mobile with special guests Kehlani and Jaden Smith.
CHANGES – already receiving early buzz as "futuristic R&B/pop," "trap-soul jams," and "a new vocal plateau" – is available now for pre-order/presave with the new track "Get Me" featuring Kehlani, and will be released to all DSP partners on February 14th. Special collectors-edition CD's will be available at Target, where each CD will contain one of two exclusive fold-out posters.
In step with today's premiere of the "Justin Bieber: Seasons" YouTube Originals docuseries, Justin is once again ruling the airwaves and dominating the charts.  He made radio history when his new single "Yummy" netted the highest number of official adds ever in a debut week. The track has now surged to over 300 million streams globally.
Jim Gaffigan: The Pale Tourist
August 17, 2020
Actor, writer, producer, four-time Grammy nominated comedian, two-time New York Times best-selling author, two-time Emmy top touring performer, and multi-platinum selling father of five Jim Gaffigan will bring The Pale Tourist, arena and theatre world tour to Greensboro Coliseum on August 17.
2019 was Gaffigan's biggest year to date with an astonishing eight films opening.  Three of the films premiered at the Sundance Film Festival including Troop Zero (Viola Davis, Allison Janney), Them That Follow (Olivia Coleman, Walton Goggins) and Light From Light (Marin Ireland) – with many festival goers calling Gaffigan the "King of Sundance." He debuted in his first two leading roles in the comedy Being Frank and the thriller, American Dreamer, which are now available for download.  Additionally, Troop Zero will soon be released by Amazon Studios.
Gaffigan is one of only ten comedians in history to sell out the famed Madison Square Garden arena and he opened for Pope Francis in front of one million+ people in Philadelphia, during the Pope's visit to the US in 2016. Gaffigan regularly does humorous commentaries on CBS Sunday and last year he served as master of ceremony at The Al Smith Memorial dinner. He was also recently named one of the world's highest grossing comedians by Forbes, and streaming site Pandora announced Gaffigan as their most popular comic with over 647 million spins to date.
Dan + Shay The (Arena) Tour
September 12, 2020
Dan + Shay continue their rapid rise and are taking the music world by storm.  The last twelve months have seen GRAMMY, Billboard, ACM, CMT, and Teen Choice Award wins – most recently snagging several CMA Awards nominations, the accumulation of over two billion on-demand career streams, several mega-hit, chart-topping songs, and more.  The pair have already sold out headlining US & UK tours in 2019, where they performed from their ever-expanding array of hits, including their most recent chart-topper, "All To Myself," their 2x-Platinum, multi-week No. 1 single "Speechless", and the most-streamed song released in 2018, multi-Platinum, multi-week No.1 global smash, "Tequila."  All three are featured on Dan + Shay, which has sold more than one million album equivalents and debuted at No. 1 on Billboard's Top Country Albums chart the same week "Tequila" reached No.1 on the Country Airplay chart, marking the first time since 2009 that a duo or group has topped both charts simultaneously.  Dan + Shay made SoundScan recorded history as the first new country duo to debut at No. 1 on Billboard's Country Albums Chart with their Gold-certified first album, Where It All Began.  Their catalogue comprises three albums, including Where It All Began, Obsessed, and Dan + Shay, six Platinum singles, including the duo's debut "19 You + Me," and their six No. 1 hits: "Tequila," "Speechless," "All To Myself," "Nothin' Like You," "From The Ground Up" and "How Not To."
Basketball, Swimming, Soccer and more in Greensboro
Greensboro is a leading "Tournament Town" for sports events involving youth, collegiate, amateur and professional organizations. Greensboro hosts events like; Wyndham Championship, USA sports including USA Masters, Diving, Swimming and Rugby; PGA Golf; NCAA Championships including Men's and Women's basketball, swimming, diving, track, field, golf and more.
Greensboro Sports Commission: Greensboro has long been recognized as a place where athletes can bring their game and lay it all on the line for a chance to make dreams come alive. But what distinguishes Tournament Town the most as a championship destination is the extraordinary level of hospitality and genuine love of sports that permeates this Southern city. See the full event schedule of tournaments and sports events throughout Greensboro.
NC Fusion – 2020 Elite Club National League Girls National Playoffs
June 23 – July 1, 2020 | Bryan Park Soccer Complex | Book A Room
NCAA Division III – Men's/Women's Soccer National Championships
December 4-5, 2020 | Greensboro Coliseum | Book A Room
NCAA Division III Men's/Women's Soccer National Championships
December 3-4, 2021 | Greensboro Coliseum | Book A Room
NCAA Div. III Outdoor Track and Field Championships
May 26-28, 2022 | NC A&T State University Track & Field Complex | Book A Room
greensboro sports venues
UNCG
War Memorial Stadium
Proehlific Park
The Icehouse
New Bridge Bank Park
J Spencer Love Tennis Center
NC A&T State University
Hagan Stone Park
Guilford County Schools
Guilford College
Greensboro Sportsplex
Greensboro Parks and Recreation
Greensboro Coliseum Complex
Greensboro College
Bryan Park Golf Course
Barber Park
Coliseum Venues
ACC Hall of Champions showcases ACC history through interactive displays, unique institutional exhibits and multi-purpose program space. Highlights include a four-foot, 360-degree, state-of-the-art video globe with a unique, multi-media display of conference highlights, life-size ACC school mascot exhibits that have been a huge hit with younger visitors and an interactive exhibit that lets fans face off in a head-to-head challenge to test their knowledge of ACC sports trivia.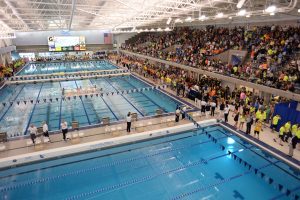 Greensboro Aquatic Center is a world-class, state-of-the-art facility with threebbodies of water and a seating capacity of 2,500. The GAC brings together all major aquatic sports – competitive swimming and diving, water polo, synchronized swimming and other unique sports – all in one venue.
White Oak Amphitheatre is an outdoor venue with a seating capacity of over 7,600, including more than 2,000 reserved seats. White Oak Amphitheatre hosts a diverse selection of community programs, music, arts and crafts and festival type events.
The Greensboro Coliseum Complex is located at:
1921 West Lee Street
Greensboro, NC 27403
(336) 373-7400
Visit Greensboro Coliseum to learn more.
Photos courtesy of Greensboro Convention & Visitors Bureau