Greensboro Coliseum Concerts and Sports
---
O.Henry Hotel is just three miles from the Greensboro Coliseum and Special Events Center. In addition to the many world-class concerts and sporting events, the complex includes the Greensboro Aquatic Center, the ACC Hall of Champions and White Oak Amphitheater.
Our nearby location and long list of amenities combine for a trip with lifetime memories.  Book Online.
Concerts and special events
At this time, we do not have concerts or special events to share due to COVID-19.
Basketball, Swimming, Soccer and more in Greensboro
Greensboro is a leading "Tournament Town" for sports events involving youth, collegiate, amateur and professional organizations. Greensboro hosts events like; Wyndham Championship, USA sports including USA Masters, Diving, Swimming and Rugby; PGA Golf; NCAA Championships including Men's and Women's basketball, swimming, diving, track, field, golf and more.
Greensboro Sports Commission: Greensboro has long been recognized as a place where athletes can bring their game and lay it all on the line for a chance to make dreams come alive. But what distinguishes Tournament Town the most as a championship destination is the extraordinary level of hospitality and genuine love of sports that permeates this Southern city. See the full event schedule of tournaments and sports events throughout Greensboro.
NCAA Division III Men's/Women's Soccer National Championships
December 3-4, 2021 | Greensboro Coliseum | Book A Room
NCAA Div. III Outdoor Track and Field Championships
May 26-28, 2022 | NC A&T State University Track & Field Complex | Book A Room
greensboro sports venues
UNCG
War Memorial Stadium
Proehlific Park
The Icehouse
New Bridge Bank Park
J Spencer Love Tennis Center
NC A&T State University
Hagan Stone Park
Guilford County Schools
Guilford College
Greensboro Sportsplex
Greensboro Parks and Recreation
Greensboro Coliseum Complex
Greensboro College
Bryan Park Golf Course
Barber Park
Coliseum Venues
ACC Hall of Champions showcases ACC history through interactive displays, unique institutional exhibits and multi-purpose program space. Highlights include a four-foot, 360-degree, state-of-the-art video globe with a unique, multi-media display of conference highlights, life-size ACC school mascot exhibits that have been a huge hit with younger visitors and an interactive exhibit that lets fans face off in a head-to-head challenge to test their knowledge of ACC sports trivia.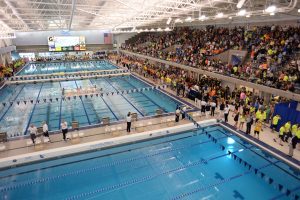 Greensboro Aquatic Center is a world-class, state-of-the-art facility with threebbodies of water and a seating capacity of 2,500. The GAC brings together all major aquatic sports – competitive swimming and diving, water polo, synchronized swimming and other unique sports – all in one venue.
White Oak Amphitheatre is an outdoor venue with a seating capacity of over 7,600, including more than 2,000 reserved seats. White Oak Amphitheatre hosts a diverse selection of community programs, music, arts and crafts and festival type events.
The Greensboro Coliseum Complex is located at:
1921 West Lee Street
Greensboro, NC 27403
(336) 373-7400
Visit Greensboro Coliseum to learn more.
Photos courtesy of Greensboro Convention & Visitors Bureau