Check-in and Stay a while
Experience AAA Four Diamond luxury, the warmth of home away from home, attentive staff and gracious amenities to meet all your needs during your stay. O.Henry Hotel offers special rates starting at three nights or more—perfect for home renovation projects, moving homes, or for visiting friends and family!
You are in for a great night's sleep. Our magi bedding starts with a supremely comfortable mattress. Then we added four plush, down-like sleeping pillows, wrapped it all up with sumptuous, Egyptian combed-cotton, Italian-woven sheets and pillowcases and topped it off with a hypoallergenic, fiberfill blanket and damask coverlet.
Breathe a breath of fresh air all night long with our extraordinary air quality — we put over 40 cubic feet per minute of triple-filtered outside air into each guestroom 24/7/365. The double walls between guestrooms create a noise-canceling "do not disturb" environment so you can wake rested and ready for the next day.
Everything To Make your stay feel like Home
Adjacent Restaurant & Room Service
Custom Designed Rooms & Flexible Housekeeping
Attentive Service For Your Every Need
Special Laundry Services Available
Flexible billing arrangements
Use of gathering spaces for special occasions
Convenient Location
We are located within 2 miles of Cone Health Wesley Long Hospital and Friendly Shopping Center. If you need to stop by Harris Teeter, pick up a book at Barnes and Noble or new attire at Macy's and the other 100+ stores, it's all just a hop, skip, and a jump away.
Insider's Tip: Don't want to be burdened while traveling? Ship what you need to the hotel! So it'll be waiting for you when you arrive! 
Safety & Accessibility 
There's nothing more important than safety. At O.Henry Hotel, we have 24/7 staff to assist you with any request or concern. Our guestrooms have in-room safes to store any personal items. We also have accessible rooms, entrances and social spaces. Learn more about our amenities and accessible rooms.
Our rooms are expertly cleaned and are sanitary. We eliminated the biggest sanitation concerns that most people have with hotels. We don't have the suspect shower curtain or bed spread. Instead, our glass-enclosed shower and separate tub offer superior sanitation. Learn more.
"We love the O.Henry Hotel. It is a "5 Star" experience from beginning to end. Our room, as always, was sparkling clean; the hotel staff are exceptional and the afternoon Tea was memorable. Dinner and Brunch at the Green Valley Grill was outstanding .GVG continues to be one of our favorite restaurants anywhere. The food was wonderful and the service was perfect." – Google Review
Green Valley Grill & Print Works Bistro Rated Top 100 in USA for Date Nights & Outdoor Dining!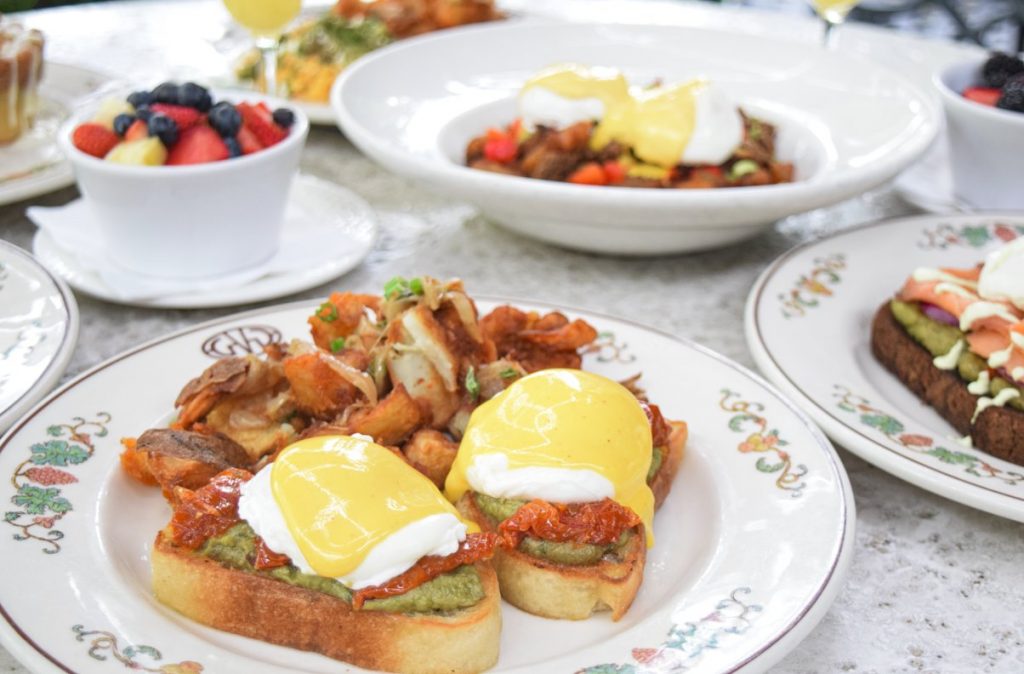 BREAKFAST & BRUNCH
We want to make sure you won't get those awkward mid-morning grumbles. Green Valley Grill's hot breakfast and brunch feature traditional favorites from the GVG Breakfast with eggs, bacon, polenta, and GVG hashbrowns to a killer rustic french toast that changes with the seasons. Other options include quiche, seasonal omelets and unique twists on benedicts, plenty of protein choices, fresh fruit, yogurt, muffins, oatmeal and gluten-free options to ensure you'll start the day energized and focused. See the GVG menus.
LUNCH
GVG has amazing lunch options, but if you're looking for another experience, our sister restaurant Print Works Bistro is located just down the street and is also a top 100 in US*. PWB uses fresh local ingredients to create extraordinary flavors and creative comfort foods. Enjoy traditional and modern versions of classic dishes popular in European-French Bistros. The vibrant light-filled dining room has walls of windows overlooking the gardens, with outdoor dining on the creek-side terrace. Experience an energetic bar that serves 75 Wines by the Glass and a craft cocktail list that changes with the seasons. Learn more about PWB and see the menus.
DINNER
Discover informally elegant, zestful dining and fresh seasonal food featuring Old World European culinary sensibilities and flavors at Green Valley Grill. Their friendly and welcoming bar features artisanal cocktails, craft beers and 500 wines. GVG's wine list receives the Wine Spectator "Best of Award of Excellence" each year and features over 75 wines by the glass. GVG's full menu is also available for room service!
Gathering Spaces
Take advantage of a spare moment to check your email or catch up with friends in our gathering places. Our social lobby has luxurious seating for spreading out for individual or group work. Then relax after your work is done with a spot of afternoon tea.
If you prefer lush surroundings with fresh air, our Cloister Garden is a great place to set up shop.
The workstations on each floor or the lower level lobby are great places for a change of scenery, but with a little less traffic.
O.Henry Hotel also has flexible meeting space if there is a need for a private conference or meeting. Ask our attentive staff to help coordinate the use of our spaces for special occasions like birthdays, anniversaries and other celebrations.
Wellness
We hope you packed your workout gear, because it's no sweat to keep to your regular routine when traveling.
24/7 FITNESS STUDIO
O.Henry Hotel has a recently updated and expanded fitness center with new equipment. It is accessible every day with your key card.
COMPLIMENTARY LOANER BIKES & WALKING TRAILS
Loaner bikes and helmets are available to rent by calling the front office. Just out the door from the hotel is 72+ miles of greenway plus hiking and walking trails.
STREAM YOUR ROUTINE
Work out in your guestroom by streaming your favorite YouTube fitness instructor to the guestroom TV using ChromeCast! There's plenty of room to do those lunges so there's no excuse to skimp.
"The O.Henry Hotel is without a doubt one of the nicest hotels I have ever stayed in. The guest rooms are extremely spacious and comfortable, the television allows you to access your own personal streaming accounts if desired, and each bathroom has tile from floor to ceiling, with both a soaking tub and a walk-in shower. If you have a chance to visit the O.Henry Hotel, I would not wait. While you are there, take a moment to sit in the lobby and look up towards the ceiling to admire the intricate woodwork, art, and quotes from literature that grace the walls. Walk to the Green Valley Grill inside the hotel and dine with a friend, or sit at the bar and enjoy one of their numerous speciality cocktails. At the O.Henry Hotel, the customer service is outstanding, the cleanliness is immaculate, the food is fabulous, and the decor is beautiful. I look forward to my next stay there." – Google Review
Relax & Recharge
Settle down and listen to some smooth tunes from our O.Henry Jazz Trio on Thursday or delight in Afternoon Tea in the O.Henry Social Lobby. Finish the night with a long soak in our oversized soaking tubs with your own music playing through our Bluetooth™ speakers.
Things To Do In Greensboro
O.Henry Hotel is just 5 minutes from Greensboro's major destinations like the Tanger Center for the Performing Arts, International Civil Rights Museum, Greensboro Science Center and Guilford Courthouse National Military Park. See our guide to Greensboro for places to explore for bleisure!